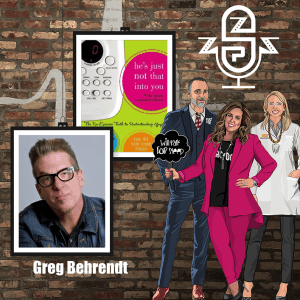 During this very serious and challenging time in our lives, we thought it was perfect timing to bring a little comedy and light-hearted humor to the ZZZ Pack! Let's all take 40 minutes to unwind, relax, and laugh! We talk with Greg about his NY Times Bestselling book, "He's Just Not That Into You", sleeping in awkward hotel rooms, stand up comedy, how does someone sleep "wrong"?! and many more riveting factoids. This one is probably best listened to with your earphones on and no kiddos around 🙂 #Fbombalert
​​About Greg: He's a New York Times bestselling author, comedian, musician, and life and relationship coach. He's sold over 4 million books, most notably the co-authored He's Just Not That Into You, It's Called A Breakup Because It's Broken as well as It's Just A F***ing Date, and How To Keep Your Marriage From Sucking. As a relationship author he's appeared on The Oprah Winfrey show multiple times as well the Today Show, Anderson Cooper and The View. As a stand-up comedian he has been fortunate to tour the world performing comedy and with his one man show, I Am The King Sweater, as well as having appeared on various late night shows like Conan, Letterman and the Tonight Show. He has hosted two talk and reality shows bearing his own name, as well as co-hosting several popular podcasts. He's also written for film and television and keeps his foot in the musical world with his band The Reigning Monarchs.
Check out his website for hilarious updates: https://gregorybehrendt.com/
Follow his podcast on Instagram here: https://www.instagram.com/dtbffpodcast/
Stay Relevant with Dental Sleep Practice
Join our email list for CE courses and webinars, articles and more..