SomnoMed's 2023 Sleep Summit, as part of SomnoMed's Medical Initiative, offered an educational experience centered around the motto: "The Right Therapy for the Right Patient, at the Right Time."
SomnoMed's market-leading Medical Initiative was on full display in Rancho Mirage, California, at the 2023 Sleep Summit. As the capstone of SomnoMed's Medical Initiative – which has successfully bridged relationships between dentists and physicians across North America – the Summit provided attendees a cross-functional, multimodality educational experience, diving deep into sleep-disordered breathing solutions infused with SomnoMed's core philosophy of "The Right Therapy for the Right Patient, at the Right Time." The Summit centered solely upon sleep-disordered breathing and the solutions that benefit both doctors and their patients.
"SomnoMed put so many of my sleep inspirations under one roof with the Who's Who of sleep medicine! It was a great representation of the Medical Initiative, to build collaboration among sleep physicians, dentists, psychologists, surgeons, and specialists."

– Suzanne Thai, DDS, 2023 Sleep Summit faculty
The 2023 Sleep Summit Pathways to Therapy: Addressing Barriers to Care
The 2023 Summit was held at the Westin Rancho Mirage Golf Resort & Spa on September 28–30. The 2023 Sleep Summit was not an oral appliance conference; rather, it served as a forum for examining current scientific research on obstructive sleep apnea and therapeutic options. In keeping with SomnoMed's core philosophy – Right Therapy, Right Patient, Right Time – all therapeutic options that are currently or soon to be available were presented. As stated by Colleen Lance, MD, "It is very rare in discussing potential therapies that I am recommending just one form of therapy. The therapeutic options may also change across one's lifetime."
This approach fits with the consistent vision of Neil Verdal-Austin, CEO and Managing Director of SomnoMed, and his relentless support of elevating education for all therapeutic options for obstructive sleep apnea.
"The Sleep Summit is all about your patients and their treatment. It honors our vision that only talks about patients," said Neil Verdal-Austin. "At SomnoMed, all we do is about the patient, walking the difficult patient pathway with you and ensuring that if we can help with their treatment, we absolutely want to have that opportunity.
Our firm belief is that in treating a long term chronic degenerative disease, compliance is really important. Having a theoretical efficacy argument is only well and good if the patient remains in treatment. That's where oral appliances really come into their own. We have a treatment solution where patients remain in treatment, and I don't need to tell you that avoiding the far worse co-morbidities still to come, if untreated, is crucial. And we owe that to your patients," stated Neil Verdal-Austin, CEO, SomnoMed.
"Great weekend with unsurpassed Physician-Dentist mingling, discussion and networking – all potentially changing the future of Sleep Medicine!"

– John Viviano, DDS, D.ABDSM, 2023 Sleep Summit attendee
'The Sleep Apnea Team'
At the heart of SomnoMed's Medical Initiative is the drive to foster physician-dentist collaboration, a vision vividly showcased at this year's Summit. Unlike typical conferences, the Summit embraced an intimate, roundtable format that facilitated genuine, real-time collaboration. Recognizing the value of spontaneous interactions, organizers remained attuned to attendee engagement, even adjusting formal Q&A times if rich discussions arose during breaks. This fluid approach to collaboration is crucial in crafting effective obstructive sleep apnea treatments. Attendees had afternoons free for further discussions or leisure at the resort, and with inclusive meals and receptions, conversations seamlessly continued. An added touch was the opportunity for attendees' guests to join receptions for a nominal fee, and a highlight was the open-air gathering under California's radiant Harvest Moon, an event that will be fondly remembered.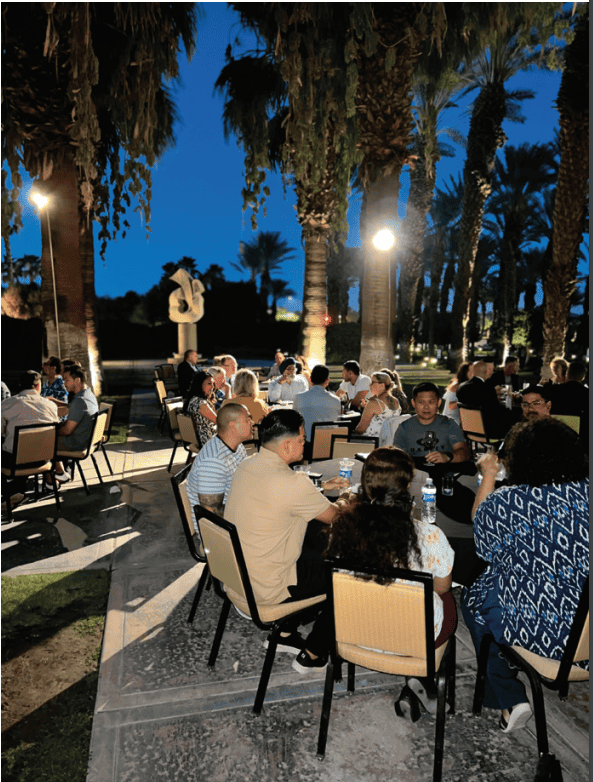 The 2023 Sleep Summit emphasized the integral role of 'The Sleep Apnea Team' – a diverse group of professionals spanning from dentists and sleep physicians to dental hygienists, sleep psychologists, surgeons, cardiologists, sleep technologists, respiratory therapists, dental hygienists, sleep coaches, myofunctional therapists, and more. The Summit's panel sessions served to underline various practice models these team members utilize. Highlights from the panel sessions include:
Drs. Subha Giri and Timothy Morgenthaler shared the Mayo ASPEN Clinic Model. This clinic is for patients who have been diagnosed with OSA but are not satisfied with therapy. They are seen in a multidisciplinary clinic, undergo testing if needed, the team huddles to review the case, and a therapeutic plan is designed in collaboration with the patient.
Drs. Andrew Soulimiotis and Nancy Collop shared their experience at Emory where an academic institution partners successfully with a sleep dentist in the community.
Kriston Reisnour, along with Drs. Srujal Shah and Suzanne Thai shared the private dental practice model. Their panel discussed the common barriers facing the path to Oral Appliance Therapy (OAT) with an emphasis on education. Kriston has a truly unique experience as a dental hygienist who is also credentialled as a sleep coach and myofunctional therapist.
Drs. Mitchell Levine, Michelle Drerup, and Colleen Lance held a Wrapping It All Up panel comprised of a guided discussion with attendees regarding common barriers faced by patients accessing therapy.
Attendees of the 2023 Sleep Summit experienced four sessions with the following topics:
Precision Therapy, where we learned about:

Clinical Phenotyping with Dr. Klar Yaggi
Sex-Specific Differences in OSA with Dr. Reena Mehra
Patient Selection with Dr. David Rapoport

Technological Advances, where we explored:

Mandibular Movement in diagnostic testing with Chandler Miller
AI & Big Data with Dr. Dennis Hwang
Remote Patient Monitoring with Dr. Christoph Schoebel who travelled from Germany to share their European experience.

Grand Rounds, where we were updated on:

Hypoglossal Nerve Stimulation with Dr. Patrick Strollo
OSA and Sleep Bruxism with Dr. Gilles Lavigne
Multimodality Therapy with Dr. Colleen Lance

Pathways to Care:

The Role of CBTi in COMISA and Treatment Adherence with Dr. Michelle Drerup
TMD and Facial Pain with Dr. Aurelio Alonso
Reflecting On The 2023 Sleep Summit
Scanning the agenda and list of speakers from this year's Summit, one can't help but be struck by the depth of expertise on display from leading figures in Sleep Medicine and Dentistry. Their collective wisdom speaks to an evolving narrative centered on finding 'The Right Therapy for the Right Patient at the Right Time.' This story will unfold further in 2024 through various CE offerings.
"Kudos to SomnoMed for putting this together and working to bridge the gap between dentistry and medicine for the improvement of communities across the globe."

– Jason Tierney, author, Transform Dental Sleep
Reflecting on the recent Summit, the outpouring of positive feedback on both the depth of content and the hosting resort has been overwhelming. This continued education event, sponsored by SomnoMed North America and supported by other industry partners, has truly hit its mark. Dr. Colleen G. Lance, the Summit Chair, shared her insights, noting: "The theme of the last three annual conferences has been an ongoing story of finding The Right Therapy for the Right Patient at the Right Time. As a field, we are redefining our approach to sleep-disordered breathing using clinical phenotyping, data analytics, and artificial intelligence. These themes were woven into the fabric of the conferences while presenting practical applications for the clinical setting. A central theme of the conference this year was Meeting Patients Where They Are, engaging them as a partner in finding the right combination of therapies to meet their needs."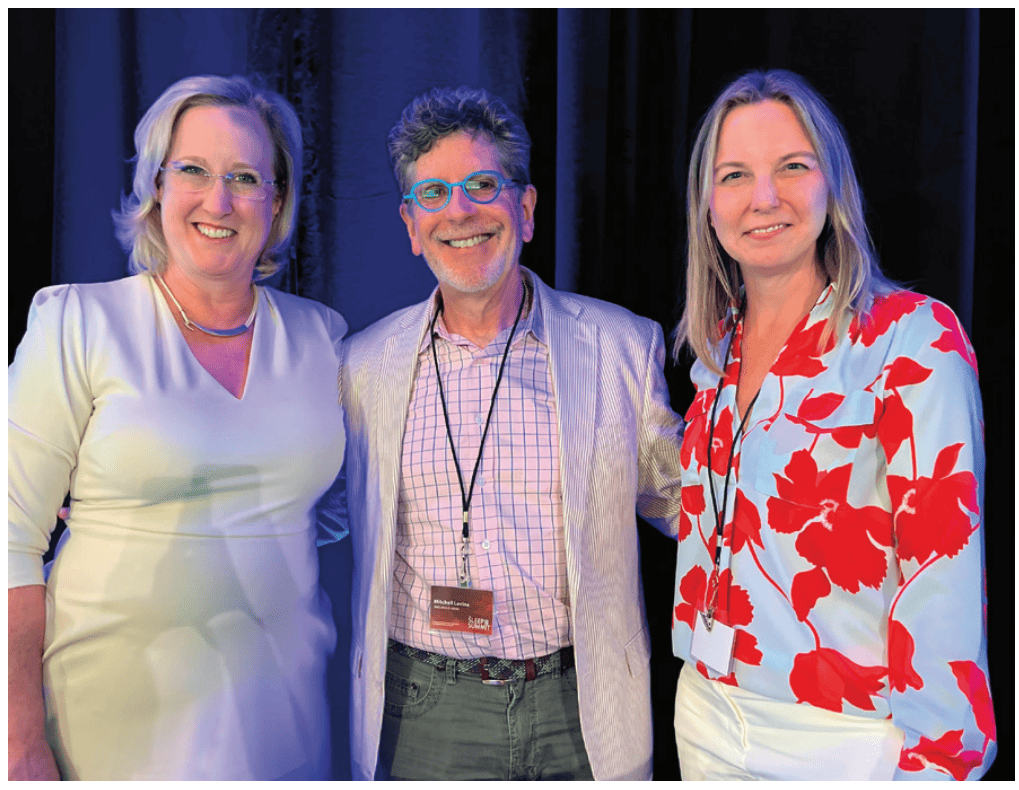 Plans for the 2024 Sleep Summit are already underway, with the spotlight on a handpicked panel of experts for October 16-20: a rendezvous at The Broadmoor Resort in Colorado Springs. With a proud 5-star rating from the Forbes Travel Guide for an impressive 63 consecutive years, The Broadmoor promises not just an enlightening conference but also an unforgettable autumnal retreat. Much like this year, the 2024 agenda will intersperse serious deliberations with leisurely afternoons. Attendees can collaborate or simply enjoy some downtime with family. The inclusive packages will cover meals and evening soirees, and for those looking to extend the experience to their companions, guest passes are available for a nominal fee.
"This is the best conference I have attended; great education from experts in the field!"

– First-time Sleep Summit attendee
The 2023 Sleep Summit could not have been possible without the direction and coordination of Kathryn Hansen, BS, CPC, CPMA of Integration Consultants, LLC. Owner; CME coordinator. Assisting Kathryn in Marketing and Promotion was Alison Hinck.
Digital marketing and communications were handled by Blue Craze Media (BCM), represented by Carly Stokes.
Additional unrestricted grant was provided by the American Academy of Cardiovascular Sleep Medicine.
We would like to thank our industry partners who supported us at The Sleep Summit 2023:
SomnoMed North America: Neil Verdal-Austin, CEO and Managing Director, host of the 2023 Sleep Summit with an unrestricted education grant
Other market leaders who exhibited at 2023 Sleep Summit include:
React Health:

Tod York, EVP of Sales, DME

Nexus Dental Systems

Brett Brocki, Founder and CEO

RestAssure
Dental Sleep Profits

Todd Warren, Founder & CEO

Align iTero

Kyle Dunlap, business development manager

INSPIRE

Erika Melkesian – Medical Education Associate

Dexis Consulting Group-Esthetic Professionals

Brian Vujnovich, Senior Sales Executive
Chad Crispin, CTO, director of business development

HDX Corporation

Isabella Peceli, Education Specialist
Without the support of our faculty, exhibitors, and attendees, this conference would not have been possible. Plan to join us for another capstone event in 2024 at the famous Broadmoor Resort in Colorado Springs, CO.
Stay Relevant with Dental Sleep Practice
Join our email list for CE courses and webinars, articles and more..