Extending the Value of CBCT
Introducing the first 3D Solution for the Analysis and Treatment of OSA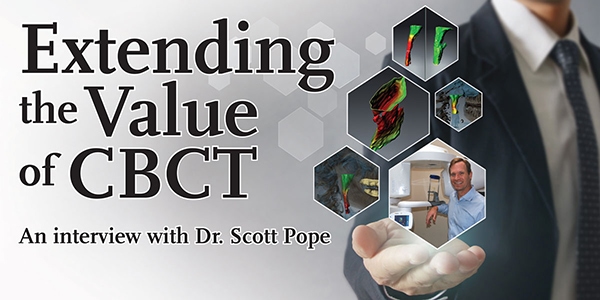 Dental Sleep Practice recently sat down with Dr. Scott Pope, an expert in the field of using Cone Beam technology to assist his patient care, to talk about the value his GALILEOS brings to his practice.

DSP: Scott, like many dentists, you have been treating sleep patients for a while in your dental practice. What's special about CBCT for you?
SP: People care about their own problems. If you can get them to feel what you've discovered is an important problem for them, they're more likely to seek treatment.
Is snoring a big deal? We know it can be. Snoring is, for many, the most observable sign of sleep apnea, and it's becoming an important discussion topic in the dental office. The health risks associated with obstructive sleep apnea are ever-increasing and as health care providers, we have an obligation to increase our patient's awareness of this health problem. We can help them reduce the risk of high blood pressure, heart attack, stroke, obesity, diabetes, arrhythmias, and atrial fibrillation.
DSP: Walk us through the patient flow in your practice.
SP: I have been treating sleep apnea with oral appliance therapy for about 10 years and have used the Epworth Sleepiness Scale and the STOP-BANG Sleep Apnea Questionnaire to help patients accept a referral for further evaluation for sleep apnea. I originally purchased the Sirona's GALILEOS for implant treatment planning and implant placement, unaware of its greater potential. When I added SICAT Air software, I discovered by highlighting the airway and showing our patients that their own airway has critical restrictions, they became much more interested in seeking solutions. The color coded airway images have dramatically increased the awareness and conversations we have with patients regarding sleep apnea. It is like having an endoscope of the airway with the ability to actually measure airway volume and identify possible obstructive sleep apnea sufferers. SICAT Air has a BuiltIn Communication that I use to communicate with my specialists and with the patient. Patients are then sent to their PCP or sleep MD with more information, motivation, and understanding of why they need to complete the medical diagnostic process.

DSP: When you get a prescription for oral appliance therapy, how does the system help you then?
SP: Once the diagnosis of sleep apnea has been made, the treatment workflow to fabricate an oral appliance is streamlined by incorporating GALILEOS, SICAT Air and CEREC together. With SICAT Air, I have the ability to compare initial pre-treatment airway volume with the volume of a forward-posture position – we position the patient with a George Gauge and compare the scans. This allows me to setup the appliance predicting that the airway will be improved. With the GALILEOS scan and SICAT AIR, we can check the condyle fossa relation in a treatment position before we treat the patient, which dramatically reduces the possibility for TMD problems later. We scan the teeth with CEREC, which is combined with the Galileos 3D Imaging to plan the appliance to fit the teeth, jaws, and airway for our patients. I am able to digitally send the case for fabrication and be confident that the OPTSLEEP appliance will have a perfect fit and perfect occlusion. When this appliance gets final FDA clearance, I'm sure you'll be hearing more about it. Meanwhile, several labs are accepting scans to make other appliances, too.
I find the workflow to be very efficient and easy to use as this process applies the same principles I use to have a SICAT OPTIGUIDE fabricated for guided implant surgery with the GALILEOS CEREC Integration and the digital data transfer for appliance fabrication.

DSP: You say the appliance can be made where the airway is open on the scan? So do you have to take a lot of scans? How do you know when it's really effective?
SP: Most of our patients get a GALILEOS scan and bitewing images for their complete series – it's actually less radiation than a conventional digital full periapical series, and it gives us so much more. My partner and I have taken extra training to be able to see what structures are normal vs. abnormal in the scan, and we use a radiologist when we suspect something is unusual. This GALILEOS scan, that had already been taken during prior evaluation or treatment, is now again utilized during the initial communication and education about the possibilty of existent constrictions within the upper airway. If we suspect sleep apnea, we use that image to open a conversation and often take a low dose, low resolution scan in a protruded jaw position to see the effect on the airway. With the SICAT Air software, we can look at the airway in the protruded position and visualize the patients' advancement we have created in his upper airway and more importantly we have data to analyze the improvements as well. Every OPTISLEEP Appliance will be delivered with 10 individual and interchangeable rots. The rots have different lenghts which allow us to increase or even decrease the degree of protrusion to justify the perfect mandible advancement. The amazing benefits of having a digital practice is that everything integrates. I can open my scans I have taken two years ago and use this information as a platform to start the dialog on sleep apnea with the patient and for my communication with sleep MD's. So far, we've found the patients needed very few adjustments to the MAD – the airway tests 'open' most of the time. Patients get to the treatment position faster with less help from our office. That's more efficient.
DSP: Advanced software solutions can sometimes be so complicated that they're hard to use. What you're describing is certainly on the cutting edge. Say more about how it integrated into your practice.

SP: We had a digital pan for a few years, then moved up to GALILEOS for implant planning about four years ago. Each step, Sirona has been great about training, and, really, we've found the combination of the imaging devices and the software to be no more challenging than any top-level program – it's all pretty intuitive. The SICAT Air software is an addition to the SIDEXIS 4 software, and it all combines with the GALILEOS and the CEREC to give us a full suite of solutions. We get to focus on the patient – it's fun to be able to show them the clear images, especially when we know it's really serving to help us care for them best.

DSP: So many dentists are thinking about adding Cone Beam technology to their practice – your enthusiasm for how much you feel it's improved your patient care is clear, Dr. Pope. I'm sure you've inspired others to look into it for their practices.
SP: Thank you for letting me share my passion!

Stay Relevant with Dental Sleep Practice
Join our email list for CE courses and webinars, articles and more..