Editor's intro
Each dentist defines dental sleep practice in his/her own terms. Read Jason Tierney's first article as Editor in Chief of Dental Sleep Practice.
What is a Dental Sleep Practice? Sure, it's the name of the esteemed publication you're holding in your hands right now. But what else? What are the criteria for a dental office to be deemed a Dental Sleep Practice?
Is it about the volume of patients you treat with Oral Appliance Therapy (OAT) each month? Is it the number of sleep CE hours you've acquired? Does it have something to do with proficiency or accreditation, academia, podium time, which appliances you use, or how much sleep production is generated in your office?
Over the past 14 years, I've encountered dentists that return to the office after a weekend course and immediately start screening their patients, practices that treat several dozen patients monthly, and esteemed thought leaders that only provide OAT to a couple patients each month.
So, back to my question; what is a Dental Sleep Practice? It is all of the above, and this publication is intended to provoke thought, dialogue, and new perspectives for all these Dental Sleep Practices. This magazine aims to give value to the polarities and everyone in between. It is what you make of it. Your contributions, insight, and effort make your Dental Sleep Practice the one you and your patients deserve. It is pragmatism, practicality, academia, case studies, and innovative product spotlights. This publication is your Dental Sleep Practice.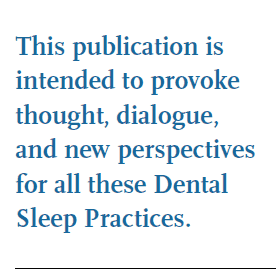 Now, let me ask you, what is a successful Dental Sleep Practice?
A successful Dental Sleep Practice has an educated practitioner at the helm. These clinicians are informed, experienced, and draw on a wide range of knowledge.
In every successful Dental Sleep Practice, the dentist has a strong team to support and execute her vision. Practices with disengaged team members are frequently unsuccessful. With this axiom in mind, you will see more content relevant to the team's role in a Dental Sleep Practice.
A successful Dental Sleep Practice also requires you to leverage innovative products and proven tools. We strive to provide you with exposure to these products and services so you can stay abreast of the ever-evolving field.
You may have noticed that I am not Dr. Steve Carstensen. This is my first issue as Editor in Chief of Dental Sleep Practice. Dr. Carstensen did a Herculean job establishing DSP as the canonical industry journal. I'm honored and humbled to continue building upon the foundation laid by Dr. Carstensen and DSP's Publisher, Lisa Moler, and I look forward to taking the baton and running with it. From our Dental Sleep Practice to your Dental Sleep Practice, let's grow together and improve the health of our profession, your patients, practices, and our communities.
Let's make it happen…
Stay Relevant with Dental Sleep Practice
Join our email list for CE courses and webinars, articles and more..