Michael Cowen shows how to define roles, clarify responsibilities, and communicate goals for the best communication in the dental sleep practice.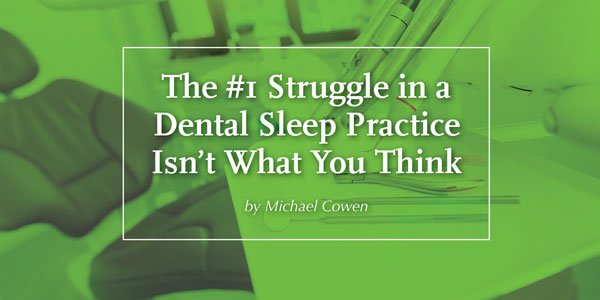 by Michael Cowen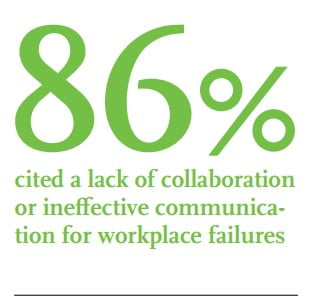 How would you answer the question – "What is the #1 Struggle in a Dental Sleep Practice?" Would you cite the challenge of getting your whole team on the same page? Maybe you would quote the astonishing number of times patients say "no" when their quality of life hangs in the balance. In looking outside of the practice, you might mention the chasm that seemingly separates the dental and medical communities from much needed multidisciplinary collaboration.
Well, if you agreed with those answers, we would have been on the same page – until two years ago. With over 17 years personally working in sleep medicine and dental sleep medicine (DSM), I have witnessed these challenges firsthand in many offices across the nation. These experiences have made it abundantly clear there is only one underlying struggle wreaking havoc on dental sleep practices everywhere:
The #1 struggle in every dental sleep practice is communication.
As humans, we struggle with the strenuous task of communicating effectively with other people. We assume that because those around us speak the same language, they understand us. That couldn't be further from the truth.
The research about workplace communication strikes a familiar chord. In a study performed by Fierce, Inc. and cited by Salesforce, Inc (SFCO), more than 1,400 executives, employees, and educators were polled on the impact of poor communication in the workplace. The statistics are staggering:
Over 70 percent of individuals either agree or strongly agree that a lack of candor impacts the company's ability to perform optimally1
Nearly 100 percent (99.1) prefer a workplace in which people identify and discuss issues truthfully and effectively1
86% cited a lack of collaboration or ineffective communication for workplace failures2
Left unchecked, poor communication can cause significant harm to your team culture and practice revenue. Conversely, by identifying effective communication as a pivotal component to every aspect of your dental sleep practice, transformation begins.
Team Communication
Your dental team members are some of the most important people with whom you communicate on a daily basis. You will continue to be the bottleneck in your own practice until your team is able to understand you.
When leading your team into DSM, it is paramount that you understand where communication breaks and how to effectively combat that breakdown in a way that is repeatable. The first place to start is understanding the roles that exist in your dental practice and how they sync with the roles needed in a dental sleep practice.
While there are unique scenarios (specialists, sleep only practices, etc), these roles (figure 1) accurately reflect the majority of GP offices that have implemented DSM to their current practice structure. Additionally, we have found through our VIP data metrics that once teams have clarified their roles, they typically experience more than a 30% increase in the conversion from screening to patients moving forward with diagnostic testing.
Once you have clarified the appropriate roles, it is imperative that you find the right people to fill those roles. This is a critical step that requires both your direction as the leader and your team's buy-in. If either of these components are missing, the result will be a lack of ownership and synergy among team members. If your team is struggling to own their new roles, you'll want to revisit this point of clarifying and assigning roles.
TIP: If you have already started your dental sleep program, ask your team what role they have and what responsibilities they own in that role. You might be surprised by the results.
Accountability is the next vital step in communicating roles and responsibilities with your team. What does success look like in your dental sleep practice? Is it the number of patients identified through hygiene? Or the number of treatment plans accepted that month? Better question – does your team know what success is and how it's measured?
According to best-selling author and marketing guru, Donald Miller, "When you confuse, you lose."3 In following Miller's lead, keep your goals SMART (simple, measurable, attainable, realistic, time-based). It is your responsibility as a leader to establish the goals for your practice, then clearly communicate them to your team.
Remember you are treating patients with a potentially life-threatening condition. Effecting positive change in their lives is your superpower. Don't squander it by only measuring dollars.
Once you have defined roles, clarified responsibilities, and communicated goals, you are on the right path. Now let's discuss your workflow.
Workflow Communication
Have you ever been to a weekend course with an amazing presenter?
Afterward, all you wanted to do was replicate their workflow, process, and success; then you discovered that it falls apart in your practice. This is a common problem. Multiple factors come into play, including: number of practitioners, size of team, experience level of team members, location of practice, insurance payor mix, and patient volume. But the most consistent, glaring differences in every practice are their team members. People are unique, bringing their own set of skills, abilities, and challenges.
Your dental sleep practice is a complex living organism whose ability to thrive is entirely dependent on your team. DSM workflow is comprised of many fairly simple team-led steps such as the screening process, scheduling, testing/diagnostics, case presentation, and billing protocols. While none of these steps are terribly difficult, as an aggregate, they are complex. Due to the number of steps, there are myriad opportunities to get tripped up or experience breakdown.
To avoid or overcome these common obstacles, first, you have to know they exist, and then create a plan of action with your team. In his book No-Fail Communication, Michael Hyatt aptly states, "writing your intention produces clarity, increases trust, and enables execution."4 Spend the time to write down your plan and communicate it effectively to your team. Ameliorate your communication, and the processes will improve. You won't regret it, and your team will appreciate the newfound clarity and direction.
https://fierceinc.com/employees-cite-lack-of-collaboration-for-workplace-failures/
https://www.salesforce.com/blog/2012/09/nick-stein-work-post-2.html
Miller, Donald. Building a Storybrand. USA. HarperCollins Leadership. 2017
Hyatt, Michael. No-Fail Communication. USA. Michael Hyatt & Co. 2020
Stay Relevant with Dental Sleep Practice
Join our email list for CE courses and webinars, articles and more..