SEO: Scam or critical marketing service? Part 1 by Ian McNickle, MBA
The world of online marketing can be quite confusing, if not downright aggravating. It can be challenging to know what to do, how to do it, and who should do it for you. One of the most popular services discussed these days is "Search Engine Optimization" (SEO). Most people understand that SEO is a sort of mysterious service that somehow gets you ranked highly on Google and the other search engines.
"What exactly is SEO?"
SEO can be defined as a set of ongoing monthly activities that must be performed in order for your website to rank highly on Google and the other search engines. SEO includes both "on-page" optimization and "off-page" optimization. On-page optimization includes items done on the website itself (code, content, images, videos, sitemap, blogs, etc). Off-page optimization includes items that are on the Internet, but not the website (online reviews, social media, directories, backlinks, etc). So in a nutshell, SEO is some combination of all these things performed each month. Determining which items should be done and how much of each item should be done depends on your goals and local competition.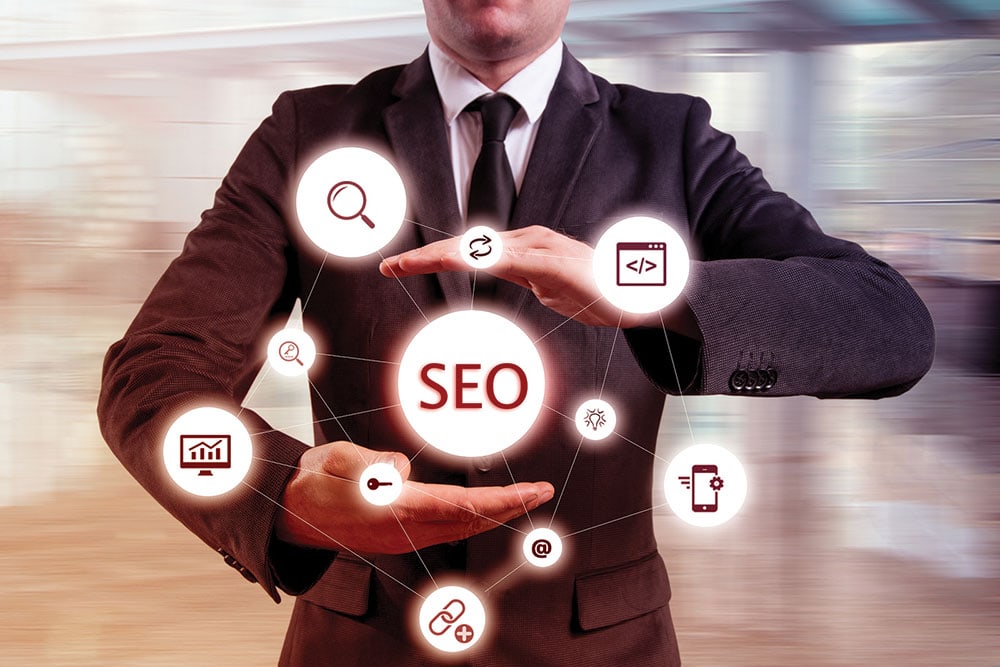 "I've tried SEO and got ripped off!"
I frequently lecture all over North America about SEO and many other online marketing topics. If I had a dollar for every time I've heard a doctor complain about getting ripped off, I could probably retire. I feel their pain and frustration. It's real. Hiring an SEO company is kind of like taking your car to the mechanic. You hope they are honest and good at what they do so you'll get value for your money, but it is difficult for you to assess that ahead of time (or even afterwards).
In my estimation, SEO is indeed one of the most misunderstood services, and therefore, a lot of doctors get taken advantage of when hiring an SEO company. My goal with this article series is to educate doctors and staff to prevent you from getting ripped off, or at least from making bad decisions.
"How does it work?"
In order to understand why SEO needs to be done a certain way, it is important to first understand a little bit about how search engines operate. For most average websites, the search engines review your website about every 30 days. When a search engine reviews your website, it actually indexes (reads and stores on its servers) every line of content and code on your website. Each time it does this, it compares all of your code and content to what it indexed 30 days prior and looks for improvements, new content, etc. Search engines also take into account your online reviews (Google, Yelp, Healthgrades, Facebook, etc), as well as social media activity and engagement (Facebook, Instagram, Pinterest, Twitter, You Tube, etc).
A well-designed SEO program will involve some combination of many of these activities every month so that each time the search engines index your website and online activity, your practice will be rewarded with higher rankings (or at least by not dropping in the rankings).
SEO takeaway No. 1 — SEO activities must be done every month in order to be rewarded by search engines. If not, your search rankings will plateau or decline.
"How can I tell if I'm getting real SEO?"
Google has over 200 variables it evaluates when assigning search rankings to websites. I normally group the most important variables into five major categories: 1) website code, 2) website content, 3) incoming links to the website, 4) online reviews, and 5) social media.
In part 2 of our SEO series, we will explore these five major categories, so practices will be able to understand what they need to do (or what their SEO company should be doing) in order to rank highly on Google and other search engines. In part 3 of our series, we will discuss questions to ask when interviewing SEO companies and how to spot scams (and low-end SEO services).
Marketing consultation
If you have questions about your website, SEO, social media, or online marketing, you may contact WEO Media for a consultation to learn more about the latest industry trends and strategies. The consultation is free if you identify yourself as a reader of this publication.
Receive your free marketing consultation today: 888-246-6906 or info@weomedia.com
Stay Relevant with Dental Sleep Practice
Join our email list for CE courses and webinars, articles and more..