Editor's intro: As a hybrid appliance for the nasally compromised, the Oventus O2 Vent® Optima reduces negative pharyngeal pressure swings. Read Dr. John Viviano's product study to discover how this nylon appliance meets this goal.
The Oventus O2Vent line of oral appliances recently added the O2Vent Optima. The Optima achieved 510k market clearance from the US Food and Drug Administration late this summer. The Optima is available in Canada, the US and Australia. The Oventus focus is on this newly available entry into market.
The original O2Vent, based on a Mono Block platform, incorporated an integrated oral breathing channel. It allowed for mandibular advancement, but this required lab participation. Chairside adjustable versions were then introduced; one based on a "TAP-Like" anterior midpoint attachment and a second based on a "Dorsal-Like" bi-lateral attachment – O2Vent® T and O2Vent® W.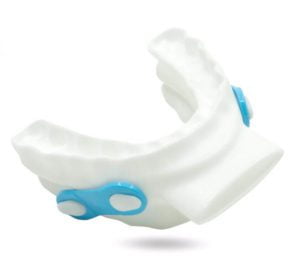 The latest addition to this lineup of appliances is the O2Vent Optima (Figure 1). It is designed and manufactured in a Computer Assisted Design and Computer Assisted Manufacturing (CADCAM) environment. It is best described as a hybrid appliance blending features of EMA and Narval devices with the integrated airway technology that is unique to Oventus oral appliances. The O2Vent Optima is made of PA2200 non-filled type 12 Polyamide Nylon, and is 3D Printed. As with all of the Oventus O2Vent appliances, mandibular advancement is provided along with the integrated proprietary airway technology which facilitates airflow even during velopharyngeal collapse. Mandibular advancement is achieved using Oventus proprietary medical grade Isothane connector bands developed specifically for the Optima. The O2Vent Optima is provided fully assembled with a 19 mm length connector band attached, customized to the patient needs. Two sets of connector bands are also provided to adjust advancement, each set consisting of 9 sizes ranging from 13-21. As with all appliances that utilize connector bands, once the optimum jaw posture is established, the advancement bands should be assessed monthly for elongation and replaced as necessary.
The O2Vent Optima Advantage
The Oventus O2Vent Optima can be very useful for chronic nasal obstructers, but it can also be used for non-nasal obstructers. A non-nasal obstructer will breathe normally through their nose while wearing the O2Vent Optima, however, during allergy or cold season, if their nasal breathing becomes temporarily compromised, they can also benefit from the airway option.
The premise of the O2Vent Optima is that the integrated airway channel by-passes the problematic velopharyngeal blockage area thus reducing negative pharyngeal pressure swings.
The ExVent is an accessory to the Optima device. The addition of this Positive End Expiratory Pressure (PEEP) valve helps to stabilize end expiratory pressure and maintain a positive airway pressure, preventing airway collapse (Figure 3). The ExVent Oral PEEP valve was introduced into the Australian and Canadian market in the spring of 2019. A multi-center trial with the ExVent is being conducted within the United States. For those PAP users struggling with Full Face Mask or those complaining of being starved for air, the ExVent offers a new therapeutic alternative.
Even more exciting are two innovative products currently in the research and development phase of product realization at Oventus Manufacturing in Brisbane, Australia. The first product is a combination of oral and nasal PEEP (Figure 4). The valve-pillow combination will attach to the O2Vent Optima or the O2Vent W appliances. It is being designed as a potential alternative treatment to CPAP. Patients may receive similar benefits without a 1lb. device, hose, mask and a power requirement.
The second product is a Connector that fits to CPAP (Figure 5). The PAP Connector will allow PAP to be applied without straps or the traditional PAP mask. Both of these innovative products are exciting and currently in development.
Why Focus On PEEP?
Since excessive increase in expiratory resistance can result in CO2 retention and patient awakening, successful therapy with PEEP devices depend on clinical expertise and selection of an appropriate resistance that allows the patient to continue breathing normally without significant CO2 retention. An ideal PEEP device should increase the expiratory pressure without compromising tidal volume, without causing CO2 retention, and without disturbing sleep.
The Oventus design is being developed as a platform which revolves around the notion of achieving optimal success with minimal intervention. The airway channel manages mouth breathing and by-passes the problematic velopharyngeal blockage area — this seems to be counter-intuitive considering what we know about the importance of nasal breathing. However, O2Vent appliances do not promote mouth breathing for a patient that has good nasal patency, they simply manage mouth breathing for those patients that have compromised nasal breathing. We know that there is a subset of patients that remain nasally compromised, even post-surgical intervention, and this may be the appliance of choice for them. However, this approach may benefit even those patients with optimum nasal breathing. There is some suggestion in the literature that an OSA Appliance is more likely to fail when the site of collapse is at the velopharynx (Figure 6). For patients who experience a velopharyngeal collapse, the oral breathing chamber facilitates air flow caudal to the velopharyngeal collapse, allowing for uninterrupted ventilation (Figure 7). Of course, nasal breathing is preferable for a number of reasons, one of the most important being the function of the nasal valve which moderates the rate of breathing. I wonder if the planned PEEP valve could in fact mimic this same function for oral breathing?
Show me the Evidence
In 2017, Lavery et al. published their findings on the safety and efficacy of the Oventus 02Vent Mono Block appliance for the management of Obstructive Sleep Apnea. The study had an n of 29, and incorporated participants of relatively severe OSA. They concluded that this device is safe, effective, and well tolerated with a clinically and statistically significant reduction in AHI of 62% as well as improvement in oxygen saturation. Neither efficacy nor response was reduced by the presence of nasal obstruction.
There has been much ongoing research activity in Australia regarding the Oventus O2Vent appliance platform. In October 2018, five abstracts were presented by various groups at the European Respiratory Society International Congress and the Sleep Down Under Annual Conference.
AIRWAY OPEN-AIRWAY CLOSED: Lavery, Szollosi, Moldavtsev, McCloy and Hart

This study with an n of 32 aimed to determine the effects of the built-in airway on treatment response measured using the Apnea Hypopnea Index (AHI). The results demonstrated the benefit of adding an Oral Airway. The addition of an Oral Airway to proven non-responders reduced their residual AHI a further 20% and resulted in 6 of the 17 non-responders becoming Oral Appliance Responders. Overall, the authors found that treatment response was similar with and without an Oral Airway, with much inter-individual variability. However, when a significant differential response occurred, it more frequently favored the Oral Airway. Patients that failed to respond to traditional Oral Appliance treatment with no Oral Airway, and those with higher inspiratory nasal resistance, tended to respond more favorably to an Appliance with an Oral Airway.

Combination therapy with mandibular advancement and expiratory positive airway pressure valves reduces OSA severity: Lai, Tong, Tran, Ricciardeiello, Donegan, Murray, Carberry and Eckert

This study of n=22, aimed to determine if combination therapy with an oral appliance that has a built-in oral airway (O2VentT™) and Oral or Oro-Nasal PEEP valves, reduces OSA severity for incomplete oral appliance responders. It demonstrated that the addition of both Oral and Oro-Nasal PEEP valves to the base appliance that had an Oral Airway resulted in a reduction in OSA severity to therapeutic levels for approximately 60% of participants who were incomplete responders to the appliance alone. They also found that addition of the Oral PEEP valve significantly reduced residual events by 30% (p<.02) and that the addition of Oro-Nasal PEEP valves significantly reduced residual events by 50% (p<.02).

Combination therapy with CPAP plus MAS reduces CPAP therapeutic requirements in incomplete MAS responders: Tong, Tran, Ricciardiello, Donegan, Murray, Chiang, Szollosi, Amatour, Carberry and Eckert

Preliminary results (n=16) of a study investigating the combination of PAP with an Oral Appliance for incomplete Oral Appliance Responders resulted in approximately 35-45% lower PAP pressure requirements and normalized pharyngeal pressure swings to a level similar to PAP alone. The results were similar with and without an Oral Airway, indicating that patients can continue to breathe through the device airway while delivering nCPAP without losing airway stability eliminating the need for full face masks.

Postural effects on nasal resistance in obstructive sleep apnoea (OSA) and efficacy of a novel oral appliance: Tong, Tran, Ricciardiello, Donegan, Murray, Chiang, Amatoury, Carberry and Eckert

This study of n=39 aimed to assess the effects of posture and mandibular advancement on nasal resistance in people with OSA, and determine the efficacy of a novel oral appliance that incorporates an oral route of breathing in people with OSA, including those with high nasal resistance. The results showed that nasal resistance increased not only from the seated to the supine position but increased again in the lateral position. The Oventus O2Vent reduced AHI by approximately 50% with similar reductions in those with and without increased nasal resistance.

Predictors of Response to a Novel Mandibular Advancement Device (Oventus O2Vent T) in patients with OSA: Walsh, Maddison, Baker, Pantin, Lim, Szollosi, McArdle, Hillman and Eastwood

Preliminary results (n=22) of a study designed to investigate predictors of response to an appliance with an Oral Airway demonstrated that the Oventus O2Vent reduced AHI by approximately 40% with the Oral Airway open or closed. The results demonstrated an even better result for those patients with lower nasal resistance. The authors concluded that access to oral breathing may be of benefit for certain subgroups; females, smaller neck circumference and lower waist/hip ratio.
The innovative and unique Oventus treatment platform is being designed to provide the ability to move through various steps of intervention, beginning with simply the base appliance, the Oventus O2Vent Optima, and progressing to the addition of a simple PEEP valve, a titratable Oral-nasal PEEP valve and finally the addition of PAP. The platform allows for adaptability to a next level of therapy if the current therapy step has less than desired efficacy of treatment such as residual apnea or persistent symptoms.
Although the science is early and immature, the concept is certainly intriguing and worthy of further investigation; by-passing the problematic velopharynx and/or nasal patency issues, the addition of Positive End Expiratory Pressure control and making this resistance titratable, and finally the addition of PAP if necessary. While we are waiting for more evidence, for those patients that are nasally compromised, this appliance may be the answer.
Stay Relevant in Dental Sleep
Sign up for webinar invitations, peer-written articles, and cutting-edge case studies.
WANT TO WRITE FOR DSP?
Do you like what you are reading in DSP?  Does it make you think of ideas you have that work and you would like to write about?  Our editor will be happy to consider essays from any reader!  Don't be shy - we'll help any inexperienced writer  polish their ideas and spread the wisdom of Practical Sleep Education - Contact Us Today