Pro NFL Players Tackle Sleep Apnea

In recent years, awareness of the potentially life-threatening effects of obstructive sleep apnea (OSA) has begun to rise, but there's still widespread confusion about who can be affected by the disorder. Most of those who are aware of the dangers of OSA believe that it affects only overweight and unhealthy people, while many otherwise healthy people go on without ever being diagnosed for OSA. For those it affects, no matter how healthy their lifestyle, the extreme stress poor sleep quality places on their bodies will leave them unrested.
Even some of the best athletes in the world suffer the consequences of OSA, especially players in the National Football League. In fact, according to a 2009 study by Mayo Clinic, 46% of players in the NFL and 60% of linemen suffer from sleep apnea. The problem is endemic and has even affected draft results. The 2007 #1 NFL draft pick JaMarcus Russell, who played for the Oakland Raiders, didn't perform on the field nearly to the level that fans expected, all because of sleep apnea. But David Gergen, the president of the Pro Player Health Alliance, intends to tackle the threat of sleep apnea among players and the general public once and for all.
After noticing countless NFL players seeking treatment for their obstructive sleep apnea, David decided there was an urgent need to spread awareness of the disorder throughout the United States. His response was to form Pro Player Health Alliance (PPHA), which brings current and former professional football players to different communities throughout the U.S. to promote awareness of sleep apnea. Many of these players have received sleep apnea treatment themselves, including the prominent figurehead for PPHA and former professional wide receiver, Roy Green. Once called the best player in the game by NFL legend John Madden, Roy Green saw enormous success as a two time Pro-Bowler and five time All-Pro player. Green is remembered by many fans for 559 receptions and 66 touchdowns during his career. However, Roy Green's health proved not to be as ideal. Later in life, he suffered from two strokes and two heart attacks, in large part due to sleep apnea. Diagnosis showed sleep apnea was causing 36 interruptions in breathing per hour during sleep. Like many other NFL players, Roy Green had to do what was necessary in order to stay on the playing field; and that included taking pain-killers, which have been known to amplify the effects of sleep apnea. Green wasn't getting quality rest and his heart was being taxed for that stress. After receiving OSA treatment with a Gergen's Orthodontic Lab Herbst Appliance, he began to see his overall health improve.
In Green's words, "If I had met David Gergen years ago, I may not have had to experience having a heart attack, let alone two heart attacks and strokes. I am extremely grateful for what he's done for me and my former teammates and I'm glad to be a part of spreading awareness on sleep apnea so others don't have to go through what I did."
Roy Green isn't alone. Already, over 150 NFL players have been treated for sleep apnea by Pro Player Health Alliance and many of these players have teamed up with PPHA to spread awareness to the public. Such players include Tony Dorsett and Derek Kennard. Tony Dorsett, a former Heisman Trophy winner and NFL Hall of Famer, had claimed before being diagnosed with OSA to be "snoring like a freight train." Then he received his dental sleep device, also a Herbst Appliance custom fit by Gergen's Orthodontic Lab to treat sleep apnea. Now that he breathes well while he sleeps, he proudly boasts "Superman ain't got nothing on me."
Another legendary player, former NFL lineman and Superbowl Champion, Derek Kennard, claimed to be sleeping in two hour increments for years. Sometimes, in the middle of the night Kennard's breathing would suddenly stop and his wife would have to push him just to make sure he was alive. Then Kennard's doctor, Dr. Paul Serrano of Phoenix, Arizona, told him that his sleep problems were linked to his severe sleep apnea. Derek knew he needed help. That's when he found David and immediately began treatment with an oral appliance. After starting treatment for his OSA, Kennard received a phone call from his mother telling him that his brother had passed away in his sleep as a result of sleep apnea. Derek claims, "I'm confident that if I met Mr. Gergen before my brother's passing, Mr. Gergen could have saved his life."
Eric Dickerson, another Heisman Trophy winner and NFL Hall of Famer has also suffered from terrible morning headaches and needed extensive dentistry due to sleep apnea. However, Dickerson is sleeping better than ever after receiving treatment for his OSA by Dr. Harry Sugg, in Dallas, Texas.

Other players have joined with Pro Player Health Alliance because of loved ones who have suffered from sleep apnea. Larry Fitzgerald Jr., a current wide receiver for the Arizona Cardinals and an eight time Pro-Bowler, began spreading sleep apnea awareness with PPHA after seeing his father suffer from sleep apnea. His father, Larry Fitzgerald, was a legendary figure in the world of football. For more than thirty years Larry Fitzgerald has been a major sports personality in the Midwest and has presented his unique and socially conscious view of football in print, radio, and television outlets. Yet, despite his larger than life character, Fitzgerald also suffered from severe sleep apnea. But, due to the awareness of sleep apnea which PPHA spread throughout the football community, Fitzgerald received treatment for his disorder. After seeing the transformation in his father, Fitzgerald Jr. immediately wanted to help others inside and outside of the football community to transform themselves, so he teamed up with Pro Player Health Alliance.
Along with Roy Green, Derek Kennard, Eric Dickerson, Mike Haynes, and Larry Fitzgerald Jr., other NFL greats like Warren Moon, Marcus Allen, Dave Krieg, Nesby Glasgow, OJ Anderson, Bart Oats, Carl Eller, Lincoln Kennedy, Ed "Too Tall" Jones, Isiah Robertson, Chuck Foreman, Nick Lowery and Mark Walczak, have all also received oral appliance sleep apnea treatment and subsequently teamed up with PPHA. Together, these players have visited schools, held meet-the-players events for fans, and even hosted golf-tournaments in order to spread a simple message: get diagnosed for sleep apnea, get treated, and get a good night's sleep.
As Derek Kennard explains, "You can't put a price on a good night's sleep."
So far, these PPHA events have reached thousands of people and have the potential to reach many more, potentially the entire NFL fan base. The beauty of Pro Player Health Alliance's efforts is that they benefit everyone involved: the public is able to meet their sports heroes while becoming informed of the life-threatening risks of sleep apnea; players are able to receive treatment for this debilitating condition, which means better athletic performance and more exciting games; dental practitioners, especially those who help host PPHA events, are able to attract attention and patients to their sleep practices; and dental sleep appliance labs like Gergen's are able to conduct more research and find even more impressive oral appliance solutions for obstructive sleep apnea.
With increased patient flow into dentists' sleep practices, practitioners are able to provide more feedback which allows the lab to produce even higher quality treatment tools. It's this dedication to research, quality, and advancement, which has made it one of the highest quality dental sleep labs in America. The quality of their devices has been repeatedly confirmed by patient successes, and all of the NFL players who were treated by the PPHA were impressed by their Gergen's Orthodontic Lab oral appliances. Derek Kennard, who had an especially severe case of sleep apnea, found CPAP machines to be overly intrusive, too loud, too difficult to operate, and nearly impossible to travel with. The CPAP was too inconvenient for his modern lifestyle. Instead, a Herbst Appliance was used, and it reduced his snoring and severe sleep apnea to normal levels. Most patients tend to agree with Kennard's complaints about CPAP machines, and a study by the Canadian Respiratory Journal found that 46% of patients are non-compliant with their CPAP treatment. With CPAP therapy failing nearly half of the time, oral appliances succeed nearly universally even for athletes with rigorous demands, it appears that oral appliances produced by high quality labs like Gergen's Orthodontic Lab are slowly moving to the frontline of sleep apnea treatment.
The Pro Player Health Alliance isn't the only effort launched by David Gergen to promote sleep apnea awareness and increase the quality of sleep apnea treatment. The PPHA is only the beginning of an even larger campaign to improve America's sleep. David also works to promote sleep apnea awareness for former NFL players through the Living Heart Foundation's HOPE (Heart, Obesity, Prevention, Education) Program for former NFL players. The HOPE Program is a comprehensive obesity, pulmonology, sleep, dentistry and overall health campaign sponsored by the NFL Players' Association's Professional Athletes Foundation, that strives to promote healthy lifestyles among former NFL players. David contributes to the HOPE Program through the program's partnership with the PPHA as well as through his role as Executive Dental and Sleep Apnea Director of the Living Heart Foundation HOPE Program. The HOPE Program conducts evaluations for retired NFL players at leading Hospitals and University Health Centers across the country. Recently, Mayo Clinic in Arizona and George Washington Hospital in Washington DC hosted events, with more to come in Seattle, San Diego, Dallas, Denver and Chicago. More information on events, locations, and dates can be found on the LHF website atwww.livingheartfoundation.org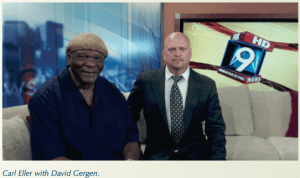 David Gergen also contributes to the sleep apnea community through the research conducted by his lab. As a technician, he continually seeks the latest research and design improvements and acknowledges the need for dental sleep practices to work as a community. Therefore, Gergen constantly keeps his eye out for advances in dental sleep technologies and makes endorsements for exceptional devices, as he did in 2013 with his endorsement of the Andra Gauge. Gergen's Orthodontic Lab is also deeply invested in improving the education of the dental sleep community and has been selected by Henry Schein to participate in their dental sleep apnea programs. These seminars set themselves apart from others with their emphasis on long term education and self-developing practices. Furthermore, Gergen's Orthodontic Lab's commitment to helping any and all patients who suffer from sleep apnea was demonstrated in 2012, when they were chosen as one of only two dental labs to make oral appliances available to be billed under Medicare. In addition to his hard work within his dental sleep appliance lab, the HOPE Program, and the Pro Player Health Alliance, David still continues to serve the dental sleep community as the director of the Dental Division of the American Sleep and Breathing Academy. Because knowledge is essential to a practitioner's longevity in the field, the Academy seeks to educate professionals in the diagnosis and treatment of sleep disorders. The Academy's approach is unique due to its vision of creating convenient, affordably priced, and high quality classes involving the entire sleep community. ASBA produces quality learning materials including printed materials, webinars, and the magazine "Sleep and Wellness" which reaches out to dentists, physicians, and technicians in order to promote a complete understanding of sleep treatment across the field. The Dental Division has gone especially far in advancing the quality of sleep disorder treatment by connecting dentists to the nearly 16,000 physicians in the ASBA. In addition, they have been able to provide insurance advantages by working to secure member preferred status with insurance companies. To advance the quality of care dentists provide, the Dental Division provides free webinars on a wide range of sleep topics to its members.

The way forward for Mr. Gergen is to get as many people diagnosed as soon as possible and connect these patients with dentists who can provide oral appliance sleep apnea therapy. David has done so by trying to promote OSA awareness among some of the most at risk groups. In 2013, David appeared before the Department of Transportation in order to request that diagnosis for sleep apnea be required for commercial truck drivers. According to a study by the University of Pennsylvania sponsored by the FMCSA and the American Trucking Association, 28% of truckers have mild to severe cases of sleep apnea. This is an alarming number considering that there are over 3 million truckers on American highways. On October 17th 2013, after David's appeal, H.R. 3095, which sets standards for the evaluation of truck drivers for sleep apnea, was signed into law. Also in 2013, on behalf of the entire dental sleep community, he testified before Congress to request that dentists be able to order home sleep tests for their patients.
2014 promises to be a productive year for the entire sleep apnea community. More people are becoming aware of the dangers of OSA than ever before. However, the majority of Americans are still in the dark. With David Gergen and former NFL players' dedicated efforts, the dental sleep community and the public at large will soon be seeing major changes.
Stay Relevant with Dental Sleep Practice
Join our email list for CE courses and webinars, articles and more..