by Susan Wingrove, BS, RDH
Digital scanning can change the way you practice – no more impressions to produce crowns, bridges, orthodontic retainers, and oral appliances for obstructive sleep apnea. Here are the key elements for intraoral digital scanning success, and some useful clinical tips.
To capture the best quality for all scans, enhanced office systems, a new instrument, and more detailed clinical protocols are the improvement opportunities. Precision scans require excellent retraction and isolation to provide data that our top lab artists use to make accurate restorations and well fitted removable appliances.
Set up Scanning for the Day – Office Systems
Assign one person to be the digital technology specialist. The scanner will need to be turned on in the morning, set up with the patients' names for the day, and made ready to go so it can be brought to an operatory without delay.
Administrative team member or digital technology specialist reviews the schedule to identify the patients that are appointed for digital scans, and others who might be diagnosed that day. Include hygiene patients for possible orthodontic aligners, occlusal guards, or other removable appliances.
Organize a fully-stocked mobile cart set up to include: the warmed-up scanner, retraction cords or paste, and individually bagged, sterilized, scanning isolation / retraction instruments. The mobile cart makes the scanner ready to be wheeled into any operatory – having it in only one spot limits spontaneous choices. What if that operatory is occupied? Opportunity lost! Be scan ready!
Maintain digital scanner according to manufacturer's instructions and keep the software up to date. Patience wears thin for technology problems.
Scan What You Need, Retract the Rest!
Fast, clear scans benefit everyone – the patient, the digital workflow, the lab artist. What is the recommended clinical protocol and what are dental professionals using for retraction now? Fingers? A small metal mirror?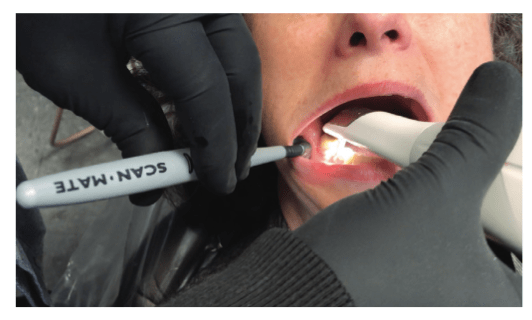 A new professional bendable isolation retraction instrument, Scan-Mate,™ is now available to be your scanning partner. A product of Armor Dental, Scan-Mate retracts the patient's lip, cheek and tongue comfortably. The Scan-Mate instrument is reusable, autoclavable, and includes a soft latex-free bendable tip with non-reflective black finish specifically intended to provide an isolated, optimal field during the scanning process for an error-free scan.
"Scan-Mate gives trained auxiliaries the confidence to scan their patients with ease while drastically reducing their scan time" said Dona Schulz, Technology Trainer and Implementation Specialist. "As a result, we will be able to train more team members to scan, which will free up the doctor's time and improve the practice's digital workflow. A bonus is that Scan-Mate can be used for comfortable isolation throughout the patient's entire appointment. Auxiliaries will love it and patients will, too!"
Tips for Successful Scanning – Clinician Protocol
Identify the area that needs to be scanned. Visualize a clear scan path, from a single restoration to full arch scans.
Bend the non-reflecting Scan-Mate instrument to retract the lip, cheek and tongue. Glide the scanner effortlessly along the scan path. No more fingers in the way!
Complete the scan with patient comfort in mind. Fast, effectively, and without reflection or gloved fingers for a clear, clean scan.
"Intra-oral scanning is here to stay, but that doesn't mean it's easy," said Dr. Scott Ganz, DMD. "Getting the proper retraction is essential to insure proper image acquisition and quality." Ganz continues: "mirrors are reflective and often uncomfortable for the patient. We shouldn't be using fingers to retract for single teeth or full arch restorations. I have been very impressed with the recently introduced Scan-Mate's fully adjustable and non-reflective instrument which definitively solves the problem. Scan-Mate allows me to quickly and clearly visualize the area to be scanned, helping to insure accurate, crisp, and clean images."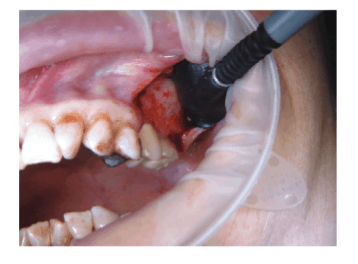 Digital technology enhances your patients' dental experience with streamlined office and clinical protocol in place. Team up with a Technology Implementation Specialist who can train your dental team to confidently complete even the most challenging scans for crowns, bridges, full arch orthodontic aligners, occlusal guards, and oral appliances for obstructive sleep apnea. Scan-Mate, your new scanning partner, clearly eliminates the biggest problem with scanning: comfortable retraction for the patient. The scanner you invested in can obtain a high quality scan – and with proper isolation, you can take advantage of that technology! No more fingers!
Scan-Mate is available through Benco, Henry Schein, JK Dental or Patterson. For more information, visit www.armor-dental.com
After you read about how to achieve scanning success, find out about the myriad of other benefits of intraoral scanning for sleep appliances! Check out "The Value of intraoral scanning for your sleep appliances  — what you should know" here.
Stay Relevant with Dental Sleep Practice
Join our email list for CE courses and webinars, articles and more..