Rose Nierman, her son, and team of 40 specialists are hard at work using cross-coding to help dental practitioners receive the compensation they deserve.
For many dental offices, the ability to cross-code and bill a patient's medical insurance for necessary procedures isn't simply a way to improve the bottom line. It's the single most important factor for a practice to set themselves apart in the current landscape. This is no surprise to the team at Nierman Practice Management, a company who not only founded the cross-coding movement but has been leading the way to cross-coding success for over three decades.
Nierman's mission to help dental practices receive the compensation they deserve has made them the leading company that offers training, software, and medical billing services to the dental industry. This mission all began with one woman, the company's founder and CEO, Rose Nierman.
How Rose Nierman Became an Industry Innovator
Although Rose's name is well known across the dental world today, the story of Nierman Practice Management began in just a single dental practice, where she was employed as a hygienist and office manager. While this may seem like an unlikely beginning for a company which has served over 10,000 dental practices, it was this beginning that gave Rose unique insights into both the challenges practices face and the potential opportunities medical billing offered.
During this time working in a practice that focused on treating TMJ and airway disorders, Rose saw first-hand how many patients were unable to afford recommended care, leaving them without treatment and the practice without revenue. Yet, she knew the types of procedures her office performed "should" be covered under their medical insurance, despite the fact that doing so successfully was practically unheard of.
Without anyone to guide her, Rose set out to learn everything she could about medical billing and its nuances, as well as how to obtain approvals and reimbursements. She was told "no" numerous times but didn't quit until her practice had successfully received payment. Soon, the office's revenue skyrocketed, and her doctor was singing her praises to other practices who came to her to teach them how to replicate her success.
It was then that the cross-coding movement was born, as Rose developed a step-by-step process and helped practice after practice, personally supporting them in the transition to medical billing for the benefit of their patients and practices.
Rose was acutely aware that there were far more offices who needed a system, ones who were languishing with low reimbursements, patients who were unable to afford their services, and a lack of knowledge of how cross-coding could be done.
To meet this need, in 1988 she founded Nierman Practice Management to begin assisting dental practices nationwide. Her proprietary process became the gold standard as more and more dental offices began to succeed and achieve coverage for the procedures and services their patients so desperately needed.
The First Ever Narrative Report and Medical Claim Software – A Systematic Approach
Part of the company's success can be attributed to its continued innovation, illustrated by its 1991 launch of the first software on the market to handle narrative reports and medical claims for dental practices. Rose's process was captured in the software to create a truly streamlined system. The implementation of Rose's software served as a rallying point for practices across the country and gave them the ability to easily and efficiently manage the documentation necessary to ensure medical insurance reimbursement. Also of great importance, it allowed offices to improve interactions with and foster referrals from medical practices, boosting the number of new patients who set foot through their doors month over month.
The DentalWriter System Today
Nierman's innovation continues to this day. Their most recent iteration of DentalWriter software is used by thousands of practices to implement a repeatable system using their proprietary 4-step process:
Step one: Online Dental Sleep Questionnaire. The data from the online or paper questionnaires informs the insurer and physicians of medical comorbidities related to obstructive sleep apnea.
Step two: Input exam data. Dedicated to showing treatment necessity, the DentalWriter Dental Sleep Exam documents the appropriate oral screening, a detailed airway exam, TMJ and periodontal baselines, and other important exam findings.
Step three: DentalWriter generates the narrative report in SOAP format (subjective, objective, assessment and plan) from the questionnaire and exam entry for medical reimbursement, physician referrals, and records.
Step four: The medical claim is automatically populated with the required fields including ICD diagnosis codes and CPT procedure codes.
Practices can choose to submit the claims electronically or utilize Nierman's integrated medical billing service where a dedicated billing specialist handles benefit checks, pre-authorizations, claim submissions, and status reports.
Nierman's upgrade to a cloud-based solution also ensures that practices stay ahead of the game.
What makes DentalWriter truly special is the team behind it. Led by industry expert, Courtney Snow, the renowned NPM support team guides practices throughout their dental sleep medicine journey.
Carrying the Torch and Continuing the Mission to the Next Generation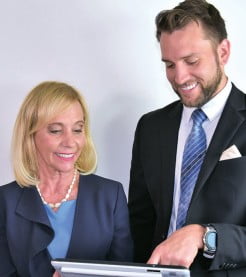 Today, another Nierman has joined Rose at the helm of the business founded 32 years ago. To ensure the company always stays true to its mission and remains focused on serving its practices with the same dedication Rose has always exhibited, her son, Jon Nierman, has taken his place as Vice President of the organization.
As Rose likes to point out, Jon's role in the company is incredibly fitting and surely inevitable since Nierman Practice Management and Jon were born the same year. Rose fondly remembers how, from the moment Jon was old enough to sit at a desk, he began testing software. He's been a part of the company for almost as many years as Rose herself.
Jon jokes that the old saying, "If you can't beat 'em, join 'em" is certainly true, and in his case, he's glad he did.
A graduate of Georgia Institute of Technology, Jon joined Nierman full time in 2010. Right from the start, Jon took a special interest in the company's CE department. His deep-seated passion for providing education helped expand Nierman's program to where it is today.
In the past 10 years, Jon has hosted over 250 CE programs, providing more than 4,000 CEU's in dental sleep medicine, TMD, and medical billing education. From mini-residencies and online CEU events to courses all over the country, Jon has made it his life's work to make this crucial educational content available to dental practices all across the country.
To make the courses more accessible, Jon has recently developed Nierman Practice Management's online learning platform, Nierman CE Plus.
Having access to a mentor like Rose, Jon knows what it takes for dental practices to succeed. "We've identified 3 key areas for practice growth in dental sleep, TMD, and medical billing – proper education for the dentist and team, scalable systems to streamline processes, and access to ongoing support specialists," says Jon.
Commitment, Teamwork, and Dedication Make the Nierman Difference
With Nierman, dental practices are never alone. No matter what the issue, Nierman's team of more than 40 specialists are here to answer your questions, to help practices navigate the ever-changing world of medical billing and dental sleep medicine, and to give you the knowledge you need to level up your success.
Nierman's core values of commitment, growth, dedication, and passion are seen in every client interaction.
With Nierman, clients always come first. The company's world-class products, education, training, and services, combined with Nierman's client commitment, create unsurpassed value. The company also believes deeply that success is dependent upon the collective energy, skills, and contributions of all of its team members. This allows Nierman to continuously improve, innovate, and facilitate growth for their team and the practices they support.
Finally, and not to be missed, the company's dedication and passion is what has driven it to uphold and advance its mission of helping dental practices implement dental sleep medicine, TMD and medical billing for over 32 years. Rose Nierman founded the cross-coding movement, and today, Nierman Practice Management continues to lead the charge.
Stay Relevant with Dental Sleep Practice
Join our email list for CE courses and webinars, articles and more..