Editor's intro: Determining vertical clearance in occlusal guards is imperative to comfort and lip seal, among other reasons — sharing clinical photos with the lab can facilitate collaboration and problem solving before the device is made. Here is some important advice from True Function Laboratory. 
What do you mean it's not enough?
by Frank Madrigal, CDT, President, True Function Laboratory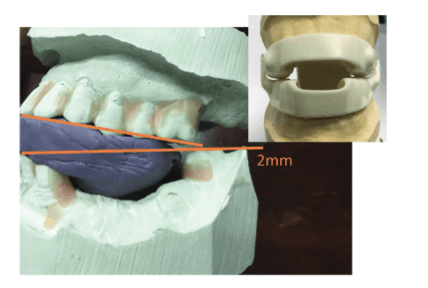 Most of you have felt the pain of grinding down an occlusal guard or simply returning it to the lab because the bite was high in the posterior. Let's contemplate the fact that most occlusal guards require a minimum of 1.5-2mm posterior thickness between cusp tips.
Now consider that most sleep appliances require at least twice that clearance. Most of our clinicians try to be as conservative as possible when it comes to vertical. They tell us that this typically increases the chance of successful therapy due to more comfort, lip seal and other important reasons. Sharing clinical photos of the patient's bite with the lab artist allows collaboration and problem-solving before the device is made.
One of the most common challenges dental laboratories have is insufficient vertical clearance in the protrusive bite. Have you ever:
Had the upper and lower trays seat well individually but not when connected?
Delivered an appliance with a much more open bite than you expected?
Received a call from your lab requesting more vertical?
Found that the appliance only contacts in the most posterior area?
Possible causes for these issues could be:
Excessive Curve of Spee
Super-erupted molars
Anterior open bite
Steep mandibular plane angle
Insufficient vertical on bite registration
Possible solutions:
Consult with lab about appliance choice
Reduce coverage over back teeth
Take bite at a higher vertical
Allow lab to increase vertical
Considerations for your next bite registrations:
Patient's oral anatomy
Patient's occlusal scheme
Appliance selection specific for the patient's anatomy
Taking a second bite registration while the patient is still in the chair
While determining vertical clearance is a major consideration in occlusal guards, predicting, preventing, and managing complications is important as well. Get some more facts from Dr. Donald R. Tanenbaum here.
Stay Relevant with Dental Sleep Practice
Join our email list for CE courses and webinars, articles and more..