The MandiTrac Device is a mandibular repositioning device that reprograms the masticatory muscles, seats the condyles, and reduces the magnitude and frequency of bruxism events. Read how it has become an essential tool in Dr. Michael Kanter's practice.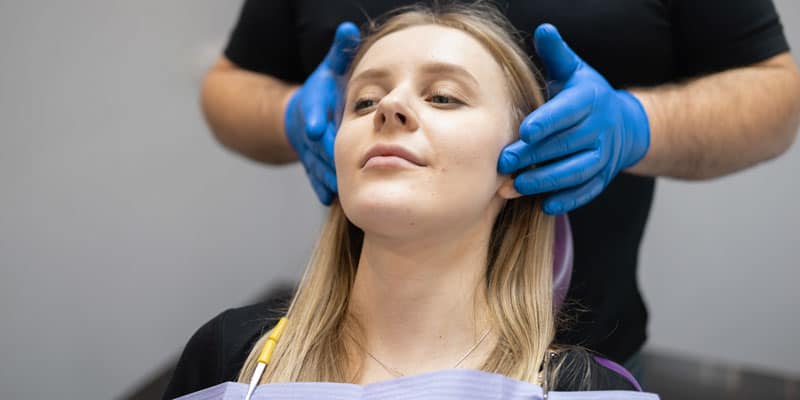 by Michael Kanter, DMD, DICOI
 Bite change is a major and common complaint in dental sleep practices. The use of oral sleep devices requires informed consent about bite changes as a potential complication from treatment.1
While I began my career in dentistry over 40 years ago, I more recently started treating sleep breathing disorders. A passion for sleep dentistry developed immediately. The first few sleep patients I treated provided some of the most rewarding experiences I've had in dentistry. My patients reported better over-all sleep, less snoring, more daytime energy and improvements with their health. However, the good feelings waned quickly as complications began to arise. Some patients started to experience complications such as jaw pain, permanent changes to their bite, and TMJ symptoms.2-3
An active therapy device, not a passive morning guide
After trying several different bite resetting protocols, we still had patients and referring doctors disappointed about these ongoing side effects. Additionally, the onset of COVID drastically increased the prevalence of bite changes as added stress or a change in patient routines stopped them from their morning reset routines. As my frustrations grew, my passion for sleep dentistry began to fade – I was ready to abandon my sleep practice. Fortunately, I came across the MandiTrac device which gave me hope to address my clinical disappointments. The following is my clinical experience.
The MandiTrac is a daytime intraoral orthotic. It is a prefabricated device to deprogram masticatory muscles, seat the condyles, and reduce the magnitude and frequency of bruxism events. Distinct from the passive morning occlusal guide, this device is intended for more active therapy, addressing preexisting or iatrogenic conditions affecting the TMJ or masticatory musculature.
The physical therapy component of treatment is intended to stretch chronically contracted and fatigued muscles, increase ROM, and reduce muscular trigger point activity. In the process, it may increase muscle tone, thereby improving airway support by decreasing the extent of airway collapse.4
The exercises are as follows:
Masseter activation: Place the rollers over the molars and gently bite down.
Pterygoid activation: Place the rollers over the premolars, protrude and retract the mandible.
Genioglossus activation: With the rollers still between the premolars, tilt the head up about 45 degrees towards the ceiling (increase your angle until you feel the stretch, then begin the same protrusion and retraction motions from previous exercise).
Each exercise is three repetitions of ten, to be completed 1 or 2x/day as directed by the practitioner.
As patients go through the exercises, it is common for the muscles of mastication to engage then fatigue before finally relaxing. Bruxism patients typically report a decrease in night grinding after as little as one session. Patients report excellent compliance since the exercises take under 1 minute to complete and the positive outcomes typically result in consistent use.
My first case using the MandiTrac was a little over a year ago. She was previously treated with an oral sleep device and presented with a chief complaint of a limited range of motion. When she smiled, her mandible seemed shifted to one side. She had a 23mm maximum incisal opening, 5mm midline shift and a 3mm posterior open bite on both sides. I thought about the poor results I'd had recovering a 'normal' bite in similar cases, using other bite resetting devices.
After using the MandiTrac for only 1 minute her incisal opening increased to 28, her midline shift was down to 2mm and a 1mm posterior open bite.
I was surprised how quickly her bite had changed after a single use and I instructed her to follow the manufacturer's protocol by using the MandiTrac once per day before bed. She was ecstatic and reported that following a week of use, her jaw felt relaxed and her bite more even than it had been in the previous year.
After one month of use, her incisal opening was 41mm, her midline was even, her open bite appeared to be closed, and she no longer deviated when she moved her mandible. She even claimed that it helped her sleep better, stop clenching and improved her 'double chin'.
As my interest in the MandiTrac increased, I decided to test the airway volume before and after usage with my colleague's pharyngometer. We observed a substantial improvement in the total collapsibility volume after just one use.
Since then, the MandiTrac has been our go to device for resetting the mandible and is being included with every sleep case, whether they are using an oral sleep device, night guard, arch expansion and/or performing Nightlase. My protocol includes making a morning occlusal guide (MOG) for every oral appliance therapy (OAT) patient, only now I instruct them to also use the MandiTrac once per day and only use the MOG on occasion to verify their bite. I also prescribe it for my bruxers, oral facial pain patients, and Upper Airway Resistance Syndrome (UARS) patients.
The Manditrac has become an essential tool in my sleep practice, and I highly recommend it to all practitioners, especially those regularly delivering mandibular repositioning devices.
From a mandibular repositioning device to mandibular advancement devices and the MandiTrac Device, Dental Sleep Practice strives to bring you comprehensive information. Read about how to predict, prevent, and manage complications with mandibular advancement devices here:  https://dentalsleeppractice.com/mandibular-advancement-devices/
J Pain Res. 2014; 7: 99–115. Published online 2014 Feb 21. doi: 10.2147/JPR.S37593
Sheats RD, Schell TG, Blanton AO, Braga PM, Demko BG, Dort LC, Farquhar D, Katz SG, Masse JF, Rogers RR, Scherr SC, Schwartz DB, Spencer J. Management of side effects of oral appliance therapy for sleep-disordered breathing. Journal of Dental Sleep Medicine. 2017;4(4):111–125.
Carra MC, Huynh N, Lavigne G. Sleep bruxism: a comprehensive overview for the dental clinician interested in sleep medicine. Dent Clin North Am. 2012;56(2):387–413. [PubMed] [Google Scholar]
CM; Rossi, RRP; Cunali, PA; Dal-Fabbro, C.; Bittencourt, L. Side effects of mandibular advancement splints for the treatment of snoring and obstructive … OFM De Martins, C Junior – Dent. Press J. Orthod, 2018 Jul-Aug; 23(4): 45–54. doi: 10.1590/2177-6709.23.4.045-054.oar
J Clin Aesthet Dermatol. 2017 May; 10(5): 49–55. Published online 2017 May 1. PMCID: MC5479477 PMID: 28670358
Stay Relevant with Dental Sleep Practice
Join our email list for CE courses and webinars, articles and more..