Ernie Cote says that building an OSA practice and entering your "Field of OSA Dreams" takes an honest look at your advertising budget and marketing challenges.
It Depends on the Answers to Three Questions
by Ernie Cote, Owner/CEO of Bullseye Media, LLC
I gave a keynote at the North American Dental Sleep Medicine Symposium (NADSM) last year and had the picture below on the screen.
Then I said, "If you build it…" and the audience echoed back enthusiastically, "they will come!"
I replied, "For your general practice, that was true. For DSM practice, not so fast. For baseball players to trudge through cornfields to find a ballpark, they gotta know what baseball is!
If they don't, I don't care what Kevin Costner does; ain't no way they're risking heat stroke and field mice to find a magical field."
The point is, if you build a Field of Dental Dreams, they will indeed come. Dentistry is familiar.
However, if you build a Field of OSA Dreams, don't expect to sell out your first game. You'll probably have to invest in educating them, first.
Case in point: A year ago I was diagnosed with sleep apnea. My PCP referred me to a Sleep doctor where I expected to learn about CPAPs and oral appliance therapy (OAT) (which of course, I would not know about if I were not in the industry). Shocker, he never mentioned an oral device. I had to ask – scratch that – I had to practically demand OAT information. And I don't think my experience is unique.
Let's compare the marketing challenge of attracting new general patients (drills and fills) vs. new sleep patients (see Figures 1 and 2).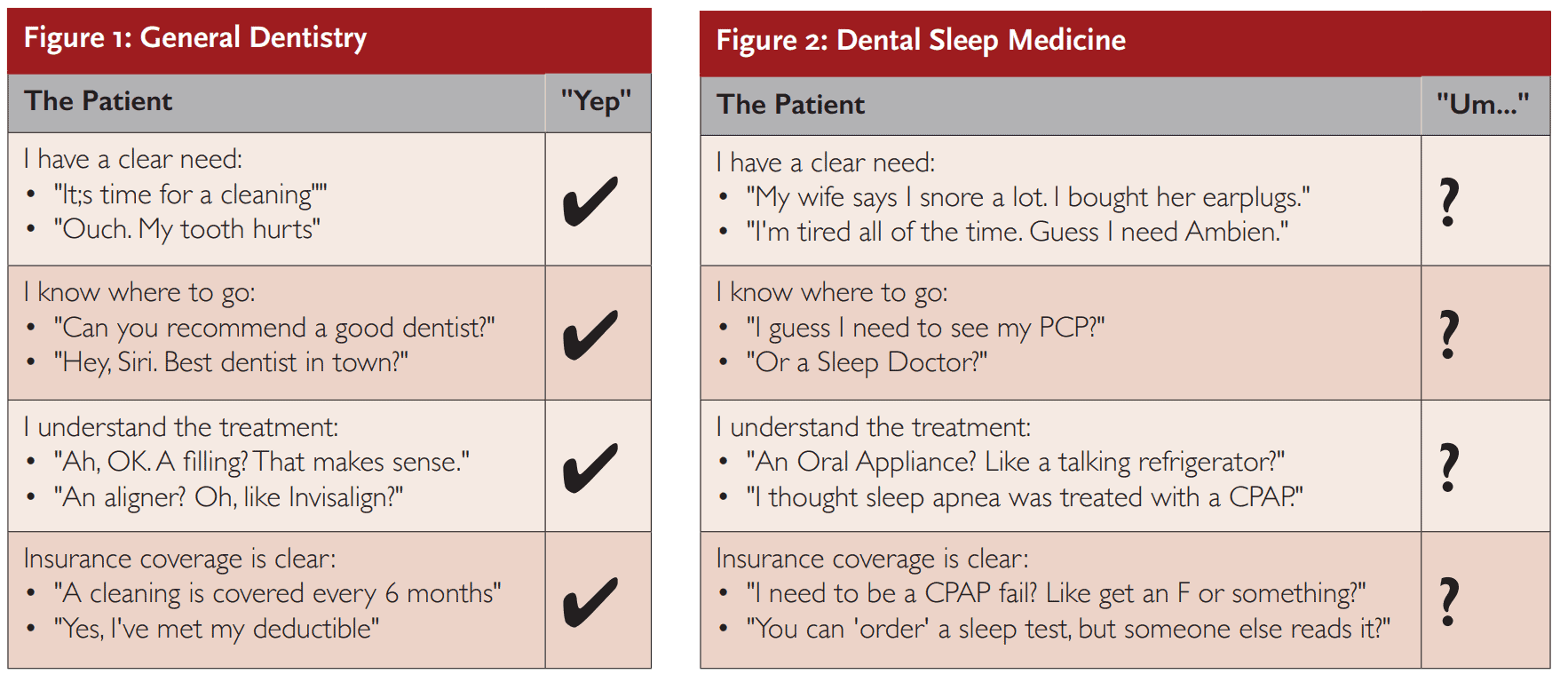 I'm not out to be a Debbie Downer here, folks. Besides, the readers of DSP already know this reality, right?
Maybe. At the NADSM I surveyed attendees on what they charge for an oral appliance. The answers ranged from $2,000-$6,000, while they responded that their average cost for that appliance is well-under $1,000.
Then I asked them what they would be willing to spend on advertising to get a new OSA patient (not someone to come in for an eval, but someone to buy OAT from them).  Over 60% said 'under $100'.
That's .015% up to 5% of revenue for a new patient, depending on what they charge.
For perspective, the average B2C company allocates 6% to 12% of total revenue annually on marketing. That's for 'older companies' (over 5 years old with a recognized brand).
For younger companies (1-5 years old, no recognized brand), it's 12%-20%.
Which Category Do You Think DSM Falls Into?
(Hint: "An Oral Appliance? Like a talking refrigerator?")
So what does all that math mean? You gotta spend more than $100 per new DSM patient. Typically, a lot more!
How much more? That depends on the answers to three questions:
The number of OAT you currently sell per month
The number of OAT you want to sell per month
How fast do you want to get there? (6 months? 1 year? 5 years?)
Using data from thousands of DSM ad buys across the country, The DSM Growth Calculator will tabulate what you need to spend, depending how many OAT you want to sell and how fast. Email the answers to the three questions to growthcalculator@bullseyemediallc.com and the results will be emailed to you.
When it comes to luring the ghost of Shoeless Joe Jackson to a baseball field in Iowa, I have no clue – no insight. But I can tell you with certainty that if you build a Field of OSA Dreams, they will come. You just may have to educate, and advertise, a little more than anticipated.
Stay Relevant with Dental Sleep Practice
Join our email list for CE courses and webinars, articles and more..