The Four Pillars for Dental Sleep Medicine Success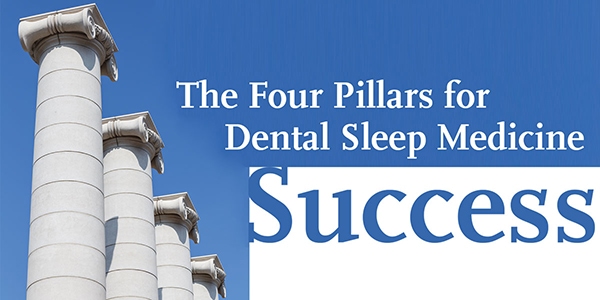 In the spirit of full disclosure, I need to tell you that I own a dental sleep medicine implementation company. Because of that, I have my finger on the pulse of what is on the mind of other dentists that have entered the burgeoning field of Dental Sleep Medicine (DSM). Our Member Support team fields calls every day from dentists that proclaim some version of the following:
"I want to practice DSM more, but I just don't have the patients."
"I send patients to the sleep lab, but they all just get slapped with a CPAP."
"I just don't know which appliance to use and I heard this can change bites."
"I have treated a few patients and it went well but insurance won't pay for it."
I've been providing Oral Appliance Therapy (OAT) for a long time and at one time or another, I've experienced each of the above frustrations. How do you identify patients, ensure they get properly diagnosed, treat them appropriately, and get paid for your potentially life-saving therapy? Welcome to the Four Pillars necessary to successfully implement and sustain DSM production in your practice; Screening, Testing, Treating, and Billing. Each of these must be a part of a firmly established system in your practice if you are going to attain success.
Pillar 1 – Screening
Sleep Disordered Breathing (SDB) affects greater than 35% of our adult population and as many as 1 in 5 adults have Obstructive Sleep Apnea (OSA). Still, less than 10 % of patients know they have this serious disorder. They are in your waiting room right now. We're remiss if we assume that someone else is broaching this issue with them. Their physicians have packed schedules and are unlikely to have a dialogue about sleep with them. That assumes it's even on their radar. It is time that we step up to the plate and boost awareness. Compared to our patients' other medical care givers we spend more time annually with our patients and we are more familiar with cranio-facial anatomy which can put patients at risk for SDB and OSA.


How do you identify patients that suffer from OSA and may benefit from OAT? Our team fields some iteration of this question frequently. Should I advertise on radio, buy billboards or what? Screening your existing patients is where it all begins.
Most dental offices routinely do oral cancer screenings. Have you considered why?  Is it because we were told to do so, that oral cancer occurs in the mouth, to avoid litigation or because we care about our patients' well-being? All are good reasons and the same can be said for screening our patients for SDB. How many oral cancers do most offices find in a year? One or two per year?  Yet, we still do it because it is an important service and we care about our patients. Screening for SDB takes no more time than screening for oral cancer while the number of our patients with airway problems far exceeds the number of oral cancer patients we will encounter.
The first pillar requires launching a system to quickly identify at-risk patients. This can easily be accomplished through readily available sleep screening questionnaires. An ideal questionnaire should include questions about Excessive Daytime Sleepiness (EDS), snoring, sleep quality, witnessed apneas/gasping while sleeping, morning headaches and difficulty in maintaining sleep. The questionnaire should also include common OSA co-morbidities such has hypertension, diabetes, weight gain, GERD, and cardiac problems. The Screener should be comprehensive and easy to complete by the patient.
Identifying these patients is a step in the right direction. What do you do next though? You need to be educated and prepared to discuss these results with patients. You AND your team need to have a defined approach to handling these conversations. You need to be passionate and caring as you help patients understand their risks. The goal is to have an informed and sincere conversation with patients about their risks, and ultimately, move forward to the next pillar of DSM: a sleep test.
Pillar 2 – Testing
The goal of sleep testing is to objectively determine if the patient has an airway problem. It is paramount to note that dentists cannot make the diagnosis for OSA but we can facilitate testing and work closely with the patient's other health care providers to treat this serious problem.


Sleep testing is one of the many areas of DSM that has become significantly more "dentist friendly" over the past few years. Years ago, the only option was to refer our patients to a sleep lab where the patients would spend the night for a Polysomnogram (PSG). If their OSA was severe enough, they were likely given a CPAP and the dentist never heard back about the patient's status. Now many patients can be tested in the comfort of their own home with a Home Sleep Test (HST).
Our job is to build a pillar to support sleep testing for all of our patients. The last thing we want is to identify an at-risk patient with a need to be tested and then drop the ball. Again, to successfully establish this pillar, it's imperative that a system is firmly established. To shore up this DSM pillar we most certainly need to also provide ways for our patients to be home sleep tested. There are currently three ways this can be accomplished. First, the dental office can work with local medical professionals (PCPs, ENTs, sleep MD's, etc.) to whom they can refer their patients for HST.
The other two methods of obtaining HST are a bit more ambiguous. There is debate in the medical community about whether dentists should be directly involved in facilitating sleep testing. Furthermore, federal and state laws may regulate or prohibit our offices from these practices. With that said, some practices order HST from third parties that provide these services directly for their patients. These companies have sleep specialists who provide an interpretation and diagnosis while billing the patient directly. This protocol reduces the dentist's capital expenditure and also introduces significant efficiency to the process. Other dentists directly provide their patients with an HST and submit the data to sleep specialists who provide the interpretation and diagnosis.
Regardless of how we build this DSM pillar we need a foundation that will work for all of our patients and we should always include the patient's PCP in the process. This can easily be done through a phone call or auto-generated correspondence through your DSM practice management software.
Pillar 3 – Treating
Treating is the DSM pillar with which dentists are most familiar. Oftentimes, we get calls from dentists that just want to know which device to use without any thought devoted to the first two pillars. While it's understandable because appliances fall within our wheelhouse, this view is a disservice to the patient and the process.


It is of utmost importance that a diagnosed patient be treated properly with an effective modality with which they will be compliant. Doing nothing is simply not an option. There are several treatment options for patients diagnosed with OSA including PAP therapy, surgery, and OAT.
The most common therapy, positive airway pressure such as CPAP, has a high level of efficacy but generally low compliance. Depending on whose statistics you read, the compliance rate is approximately 50%. Surgery can be very helpful but with it comes significant risk. OAT, namely Mandibular Advancement Devices (MAD) is very effective and has been demonstrated to have high compliance rates through myriad studies over the past few years. It can also create some minor complications. Dr. Keith Thornton, inventor of the TAP family of MAD, once said that "Effectiveness = Efficacy X Compliance." I think this is a useful algorithm to consider when weighing treatment options with your patients and their other healthcare providers.
You need to be
passionate and
caring as you
help patients
understand
their risks.
Treatment shouldn't be done without collaborating with other health care professionals – namely boarded sleep physicians. Over the years, oral appliances have become more widely accepted as an integral part of SDB therapy. This pillar is made sound through education, readily available online or at meetings, and within each practice, led by the dentist and the 'sleep ambassador' team member. Take some courses. They are available from different organizations, labs, and device manufacturers.
Pillar 4 – Billing
This is the pillar we receive the most calls about and the one I encounter most in my lectures. It's understandable. We have to be paid for our services. With that said, it may also be the most difficult to navigate. It's cliché but medical billing truly is a different beast than dental billing. There is no way around that. It simply is. Over the years, I've seen the following situation play out hundreds, if not thousands of times.


A dentist decides to begin offering DSM services but the pillar is not firmly established. She tasks a team member with submitting claims. Seemingly easy enough? The claim is faxed to the payer with some supporting documentation and after countless hours navigating voice prompts, the dentist angrily exclaims that insurance doesn't pay for OAT and she ceases to offer this valuable service.
This is unfortunate for the patients, the practice, and the profession.
This is a medical problem. Dental insurance will not cover OAT under any circumstances. This leaves fee-for-service or medical insurance as payment options. Fee-for-service may seem like a no-brainer. Think again. This choice is typically unknown in medical care. Patients don't expect to pay for medical services out of their own pockets and our medical colleagues are dumbfounded when they learn that we've asked patients to pay up front. Additionally, most insurance companies require a pre-authorization of benefits before treatment, which means even if you provide patients with a properly completed form, they may not get any insurance payment at all because it wasn't filled out prior to the date of service. It's easily understandable why this model can translate into patients declining treatment, physicians opting not to refer to dentists, and a lack of OAT production in the dental practice.
Fortunately, there is another option. Utilize a third party biller. Use your DSM practice management software to transmit the claim along with the supporting documentation directly to them. Their core competency is getting dentists reimbursed for OAT. They are masters of navigating voice prompt purgatory, deciphering payers' jargon, and getting you paid. Hiccups may still arise because you are a dentist billing medical, probably doing it out of network, and you're submitting an unfamiliar code. However, outsourcing your billing will increase the likelihood of maximum reimbursement while empowering your team to do the jobs you've hired them to do. There are several third party billers. Do a web search. Ask for references. Inquire about their services and fee structures.
DSM provides us with amazing rewards unseen in any other facet of dentistry. We can save lives and realize significant revenues doing it. DSM is a phenomenal way for a practice to differentiate itself from others in the area while serving the community. To do this effectively and efficiently requires a solid foundation on which to erect these 4 pillars. Build your team. Establish these pillars and change the world one breath at a time.
Stay Relevant with Dental Sleep Practice
Join our email list for CE courses and webinars, articles and more..