Dr. Mark Abramson developed the OASYS Oral/Nasal Airway System™ to address multiple issues. Read about how this device works with mandibular repositioning, nasal patency, and tongue function.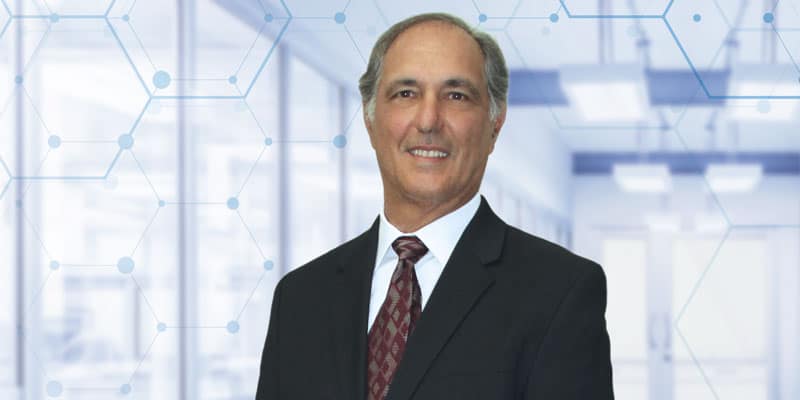 by Mark Abramson, DDS
The road that led me to becoming a practicing dentist specializing in oral facial pain and dental sleep medicine really started at the age of 14. I was hit by a car, as a pedestrian, on a sidewalk and was immobilized for 10 weeks in traction in a hospital bed and in a lot of pain.
In my process of recovery and working with the pain, I realized that I couldn't depend on medications due to the addictive nature of them. I realized that trying to fight the pain just made it worse and the suffering greater, and there was another option available. I could focus my mind to connect with what was going on deep inside of me and feel it without reacting to it – to come to the center of the storm in my body. I found that this practice had a profound therapeutic effect – physically, mentally and even spiritually. I later come to understand that what I was practicing was mindfulness meditation now known as a useful tool in pain management.
In dental school, I was interested in general health. I was looking for how to integrate what I knew from my life experience with pain management, but only the drug options were taught in school. I was fortunate to get a residency at the Palo Alto VA hospital in 1975 and began exploring ways to use what I knew in the field of dentistry. I realized that the place to do this was in cranial facial pain treatment and dedicated my life to that area.
At that time, treating TMJ was gnathologically oriented to retrusion. I realized I needed to go in a different direction and preferred to free up the mandible with lower flat plane splints. I also explored integrative medicine approaches to address the underlying craniofacial dysfunctions with physical therapy, therapeutic injections, and acupuncture.
I brought mindfulness into the pain management for my individual patients, but I saw that mindfulness was important in many health conditions and wanted to broaden mindfulness training for the larger medical community.
Fortunately, others had similar ideas for mindfulness in medicine. Jon Kabat-Zinn at UMass hospital started such a program that quickly spread throughout the world. Upon seeing what he had done, I immediately incorporated his program. I was able to start a class in my local hospital and Kaiser Permenente medical system and finally was asked to bring the program to Stanford University Medical Center and Medical School.
When I heard about airway and dental sleep medicine, I realized the importance of the oral system on sleep and breathing. A lot of the principles that I incorporated in my TMD patients were applicable to airway health, so I began my career in DSM. Being part of Stanford, I started attending the didactic lectures and grand rounds at Stanford Sleep Center.
An interesting merger of these two worlds, sleep and mindfulness, came as I was reading the pivotal book on the research into mind/body medicine that spoke of the impact of stress on health including cardiovascular health, immunity etc. I recognized that the stress reactions that we have in our awake lives were identical to the physiology and reactions that we have in sleep with apnea events or sleep disturbances.
I assembled a presentation called "Parallels in Mind/Body Health and Sleep Apnea." I was eventually allowed to give the presentation at Stanford Sleep Center grand rounds on these findings comparing the impact of daytime stress and sleep stress. To be quite honest, I was nervous on how it would be received. After all, I was a dentist presenting these principles to a group that included Bill Dement, Christian Guilleminault, Clete Kushida, and 60 scientists from Stanford Research Institute. Fortunately, the lecture was very well received, and Bill Dement asked me to lecture in his Sleep and Dreams course at Stanford. I continue lecturing in the class after 20 years and Dement's passing.
The incredible thing about the Sleep and Dreams lecture was that it afforded me the opportunity to spend a great deal of personal time with Bill Dement. Not only was Bill the father of a whole new field of medicine, he was also a wonderful person and a friend to all. We would meet as his house in Stanford Professorville and sit and talk in his study before he drove me to class in his "Sleep and Dreams" golf cart. After the cart drive back to his house, we would hang out and talk some more. He would show me the original articles and historic papers on things like his discovery of REM sleep. We had a chance to talk of shared interests like music and politics.
This presentation went on to be the foundation for a stress reduction presentation did at an AADSM meeting and a stress reduction program recorded for the ADA effort to support dentists in mental health. (The presentation can be seen here: tinyurl.com/hd9t6znj.)
The Development of the OASYS Oral/Nasal Airway System™
During my VA residency, I had five weeks of general anesthesia training. They treated me as a medical resident, and I did anesthesia for everything from open heart surgery to joint replacements. At one point, they tested me on maintaining airway. I was to put the patient out without intubation, and I had to bag the patient to keep him breathing. This was 1975 before pulse ox, so the only way to know if the airway was patent was to see the chest rise. I remember clearly thrusting the jaw forward as best I could, tilting the head back, and sealing the face mask as tightly as I could as I squeezed the bag watching for the chest to rise. I was happy and relieved when the supervising doctor allowed me to intubate. I saw that mandibular repositioning was effective and necessary to keep an unconscious airway open.
As I began to look at oral appliances, I realized the purpose of mandibular repositioning was to bring the soft tissue with it, especially the tongue. But the appliances that were popular had all kinds of components in the tongue space. So I designed an appliance that stabilized the mandible forward with a shield in front of the upper anterior teeth without any intrusion on tongue space. I also realized that mandibular repositioning was just part of the story, because I had the problem of restricted nasal breathing. Just bringing my mandible forward without addressing nasal patency would be incomplete, and it was a critical part of my airway condition. No one was addressing nasal resistance.
I set out to find a way to effect nasal patency and with the goal of incorporating it into an oral appliance. One day, I did the Cottle Maneuver on myself and immediately felt the ease of breathing. I realized that a Cottle maneuver could be achieved with extensions off of the upper shield that I already had incorporated in my appliance. These extensions would preform the Cottle maneuver and dilate the nasal valve and drain the sinuses all night long.
That was the birth of the OASYS Oral/Nasal Airway System™… Okay everyone shortens the name to OASYS, so I surrender.
The word "system" is very important here, because this is a system of care effecting multiple areas of resistance and blockage of the upper airway. In the process of getting FDA 510K for the OASYS, which is through the dental division of the FDA, they said the nasal dilation had to be reviewed by the ENT division. It turned out that it was a good process to show the dilation effect, and I ended up with FDA approvals from dental for mandibular repositioning to treat OSA and from the ENT to treat nasal patency through nasal dilation.
I opened Dream Systems Dental Sleep Laboratory in Roseville, California in 2011 with the help of Jim Addiego, a dental laboratory executive who is passionate about treating sleep apnea.
The next area that I focused on was to address tongue/throat function. I observed a number of patients whose tongue rolled up in the back of the throat and did not follow the mandible forward in repositioning. Once again, I had a good guinea pig, myself. I had a lateral tongue thrust that I could not change even though I studied myofunctional therapy and tried diligently to change my pattern of swallow. It was like having an accent in speech that I couldn't change.
I tried to create shelves under the front of the tongue and quickly found it pushed the tongue back into the throat. I found this also to be true with large mandibular tori.
I then realized that I was targeting the wrong end of the tongue, and I needed to target the root of the tongue. I applied the same principles as the nasal dilation to create pads that go down to the root of the tongue to mechanically lift the back of the tongue to the soft palate, but it also makes you have to dynamically use all the muscles of the hyoid apparatus in swallowing. You can't be lazy with your swallow. My swallow improved with two weeks of usage; my tongue naturally locks up to my palate when I am in rest posture. It has changed the dynamics of my throat, facial muscles, and airway.
John Bixby, dental director of Sleep Dynamics in New Jersey was the second to try the tongue guides. He had previously failed oral appliance therapy and was using CPAP. Then he tried the OASYS with the nasal dilation, and his AHI went from 56 to 22. When we added the tongue therapy, his AHI went to 7. He went on to exclusively use the OASYS. With his clinics great follow through, they documented 164 consecutive patients with pre- and post-treatment sleep studies. The results of his documentation were published in Sleep and Vigilance Efficacy of Oral Appliance Therapy in the Treatment of Severe OSA in CPAP-Resistant Cases [Deepak Shrivastava, John K. Bixby, Douglas S. Livornese, Felix Urena, Michael J. Bixby & Vikrum Jain. Sleep and Vigilance volume 2, pages119–125 (2018)].
The tongue guides are also incorporated into a lower flat splint called the OASYS Myosplint™ which is useful for both TMD treatment of severe clinchers to get the tongue to counterbalance the clenching properly and free up space between teeth.
In working with a local speech pathologist, we found the tongue guides effective in working with kids with speech pathologies. After a few months of night time wear of a splint with the tongue guides, dramatic changes are observed by the speech pathologist. Tongue function improved to the point that the speech therapists could fine tune the remaining speech issues. It similarly is used for myofunctional therapy.
The OASYS Hinge™
The other areas I have contributed to in the field of sleep medicine is when medicare required a hinged appliance. I felt that the hinges available were hard to adjust and awkward. I set out to create an appliance with a hinge that was easy to adjust; I designed a new hinge for appliances that is easily adjusted by an Allen wrench with two turns clock-wise to advance one mm and two turns counter clock-wise to back off one mm. It can be further back in the dental arch with the body parallel to the occlusal plane.
I was recently on a group webinar for Nierman Practice Management (https://vimeo.com/437854811) with most of the appliance companies, and someone asked us all what animal we would say represents our appliance. I initially thought what a stupid question, but when it came time to respond about the OASYS, it popped out "Camel"…the OASYS looks awkward but functions great in many environments. It is actually quite easy to deliver and adjust; it is quite comfortable to patients especially those who feel the ease of breathing nasally. The tongue guides fit in the space at the root of the tongue and usually are not even noticed or can be easily adjusted for comfort.
If you haven't tried the OASYS or OASYS Hinge, give Dream Systems a try. Jim is always there to give you help and guidance. Contact Dream Systems Dental Sleep Lab at (916) 865-4528 or by visiting https://www.dreamsystemsdentallab.com.
Stay Relevant with Dental Sleep Practice
Join our email list for CE courses and webinars, articles and more..