Dr. Don Frantz, inventor of EMA dental sleep appliances, sat down with MedMark Publisher Lisa Moler to discuss the future of the simple, inexpensive, and accessible appliance.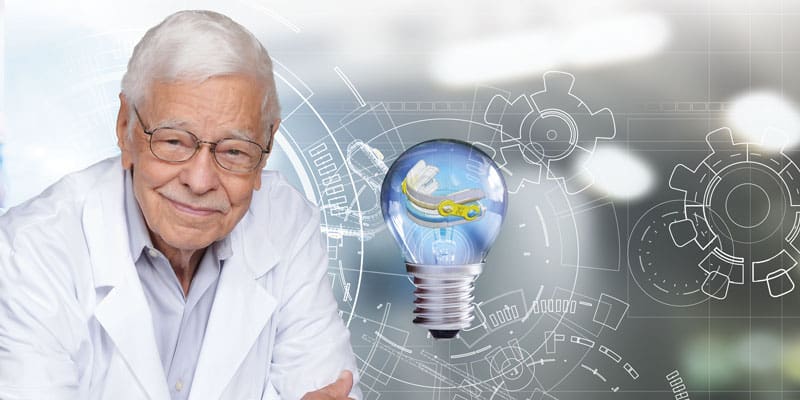 Don Frantz, DDS, has a lot on his mind, and he wants to share it with the Dental Sleep Medicine (DSM) profession. Dr. Frantz is the inventor of the EMA® dental sleep appliances, and his passion for sleep drives him to continually innovate, work, and invent. He practiced as an orthodontist for 60 years before entering the field of sleep medicine.
His company, Frantz Design Incorporated, owns more than 50 foreign and domestic patents which his team plans to leverage to continue improving the Dental Sleep Medicine landscape. MedMark Media's CEO, Lisa Moler recently sat down with Dr. Frantz to learn how his past drives DSM's future.
Take us back. What prompted you to create the EMA?
To be honest, I was tired of getting kicked in the middle of the night! Whenever I stopped breathing in my sleep, my wife would give me a good kick. My son, Michael, had a dental lab and we began to tinker with an oral appliance that might help treat my sleep apnea. As you know, that's actually how a lot of sleep practitioners enter the field – as a way to treat themselves.
And that led to the EMA?
Yep. We developed the first EMA prototype in 1993. It was important to me that any product we created checked three boxes. The appliance had to be simple, inexpensive, and be readily accessible to patients. We still operate under this philosophy.
How did you break into the oral appliance market with the EMA?
It wasn't easy. As an orthodontist, I first approached a sleep lab in Houston and told them I had created a device that would really help with sleep apnea, I'm not sure they took me seriously.
After some persistence, they eventually gave me a study of eight to ten patients. Little did I know at the time, the study included some moderate to severe sleep apnea cases. Through the course of treating those patients and tweaking the design, we saw great results. At the end of the study, one patient went from an AHI of 110 all the way down to 10. The results of that study are what landed us an NIH grant.
That's what really launched us. Fortunately, the sleep doctors' treatment philosophy and mine were the same – do what's right for the patient. I learned a lot on those long nights, at the sleep lab, observing patients and titrating EMAs during sleep studies. Buy me a drink sometime and I can tell you some interesting stories about anesthetized patients and MRIs!
How did the medical field receive the EMA?
I was having success with patients and my local sleep physicians, but on a national scale, dentists were having a difficult time developing relationships with physicians. They frequently don't see them as equals.
I remember, this one time, in the beginning, we were at a medical conference in New Orleans. A doctor nearby said, loud enough for everyone to hear, "Who let the snake oil salesmen in"? Luckily, a physician at our booth shouted, "Yeah, the earth is flat too!"
Surely you had people in your corner. Did you have mentors or colleagues that supported you during that time?
Oh yeah. We were fortunate to have some really smart friends in sleep medicine. If we ran into a problem or a stumbling block, we'd meet to compare clinical notes and figure it out. We had a great think tank. We learned a lot by getting dentists' perspectives at the annual AADSM meetings and then venturing over to the AASM meetings for the physicians' insights.
It wasn't always flattering to dentists, but we learned a lot. I can tell you there is an incredible opportunity for dentists in dental sleep medicine.
Well, you've come a long way. The EMA has great market share. What keeps the EMA competitive?
As dental sleep appliance developers, we need to make products that position a dentist for success without a lot of complexity, cost, or confusion. Usually, dentists' first patients are either themselves, family members, or a staff member. It's frustrating for me because there is a lot of need and I know what this simple oral appliance can do.
The more people we can reach with this product, the more people we can help, the more lives we can save. Unfortunately, not all dentists understood the correlation between dentistry and sleep apnea. Oral appliances have been rumored to move teeth, and there were some that did. You must treat teeth as a single unit. Trying to move the jaw alone will end up moving teeth. As an orthodontist, I was accustomed to creating retainers. The design of the EMA is based on a retainer with an appropriate amount of tension.
The EMA is comfortable. It doesn't cause TMJ issues, and it works. Simplicity works. We never stop working on research and development. I always say, if you begin to think you know it all, you don't. We feel there are always improvements that can be made to improve the comfort and function of the EMA. Things like straps, buttons, milling and 3D printing. We continue to focus on simplicity, ease of use, affordability, and value. It works for us, for our doctors, and for their patients.
"We continue to focus on simplicity, ease of use, affordability, and value. It works for us, for our doctors, and for their patients."
What's your take on the current state of oral appliance therapy?
Personally, I still think it's too slow, especially when so many people suffer from this very treatable sleep condition. Dentists take an oath when they graduate – the commitment to do what's in the best interest of their patients. But I don't think many dentists realize that sleep medicine is in their job description. With a simple oral device, dentists have access to an effective solution for many patients suffering from OSA. It's their job, their oath, and their responsibility to educate themselves on oral appliances and how they can benefit their patients.
Do you think it is a problem with the experience level of the dentist? Is there a learning curve when it comes to sleep medicine?
This is a simple case of obligation, part of the job. For years, there was no mention of sleep in the dental school curriculum. Fortunately, that is changing and will likely continue to move in the right direction. Still, we need more communication between physicians and dentists on the issue – to bridge the gap between dentistry and medicine. We've made some progress, but we can't rest on our laurels.
To dentists, I say, make sure you're on top of what's available for your patients. Partner with a quality lab that produces dental sleep medicine oral appliances and products. Be part of the solution.
Compare the gratification you felt in orthodontics with what you feel in sleep medicine.
I enjoyed orthodontics for so many years, but sleep medicine is particularly rewarding. I used to run into orthodontic patients and they would thank me for giving them a great smile. A sleep patient will say, "Doctor Frantz, YOU SAVED MY LIFE!" That's pretty great. Talk about gratification…it's not even close. There is no comparison.
Years ago, I had a patient whose sleep condition was so advanced, his family thought he had Alzheimer's. They took his car keys and everything. When he came to me, I gave him the EMA. Next time I saw him, he picked me up off the ground and said, "You don't know how much I love you!" Now, this was a family that had dirt floors in their home. They couldn't pay me. His wife said she would pray for me and that was my payment. The money comes and that's great, but those prayers mean far more to me than any amount of money. My wish for dentists is for each and every one of them to experience this themselves. But stories like this make it all worth it. Access to care is so important to me, the ability to create a product that is simple and available to everyone.
That does sound gratifying. You've been retired now for five years. Are you enjoying it?
I hate it! I'm a better dentist and designer than I am a fisherman. I wish I could be seeing patients, but I had a heart attack and reluctantly retired in 2016. Since that time, I've been able to focus on the design aspect of the EMA, which I really enjoy. I have a great team that fills in the gaps. There are things that I don't want to do, or that I'm not so good at. Most of the time, it's much more of a passion than a job.
"Affordability should never be the reason patients don't have access to quality care and restorative sleep."
You're the busiest retired person I know, but you can't do this alone. Who's the dream team behind the EMA?
I have an incredible engineer named Dane Kitchen. He's a mechanical engineer that designs injection-formed toolings for different medical devices. He also handles processing and manufacturing of the current EMA model and is really talented. My son, Joe Frantz, is Chief of Operations of Frantz Designs and runs the business. We've partnered with Sonnie Bocala, who owns Apex Dental Sleep Lab. He manufactures custom-made dental appliances like the EMA.
Together with Myerson, our global distributor, we have this cohesive think tank that just blows me away. We all have our areas of specialty, but we all learn from each other. Kind of a checks-and-balances system. This makes us all better, keeps work exciting, and creates exponential growth. The passion and contribution of every member of the team gives me so much confidence in where we are going. When everyone has this level of skill and passion, it doesn't feel like work at all.
That leads me to my next question. Where do you see the EMA in ten years?
That's a big question. No matter what, the three points of our philosophy will still be at the center of what we do. Simplicity, affordability, and accessibility.
We just launched the EMA-NOW™, an immediate, temporary oral appliance for sleep apnea. This product was designed to be affordable, accessible, and fast. Patients can see their dentist and walk away with treatment that same day which is badly needed today due to the recent CPAP recall.
One seismic change I see in the industry is digitization. We've been watching the digital advancements in this field for years but have intentionally sat on the sidelines. We didn't feel the technology was there yet. I always say, just because you can, doesn't mean you should. We didn't feel that digitization had evolved to the point where it would align with our three main goals, but we see that changing.
These days, 3D printing is incredibly accurate, more accurate than traditional production. We're not jumping on the bandwagon just yet though, because the technology isn't quite ready for prime time. It's almost there, and we're moving in that direction. We've already begun 3D production designs. Like I said, our main goal is to keep it simple, keep it cost effective, and keep it accessible to everyone who needs care. When we can check these three boxes, we're ready to digitize.
Will the 3D designed product differ much from the current EMA?
Not much will change with the basic design – because it works. We're improving the strap and making the unit more comfortable, with smaller, lower profile buttons. We'll have to make small alterations to make the design more digital-friendly, but it won't look much different than the product patients are used to.
I'll tell you what won't change – the price. The reason we've held off on digitization is because 3D products are often double the cost to produce. We're close to a production margin that will keep the EMA in an affordable price range for patients. That is very important to us. Affordability should never be the reason patients don't have access to quality care and restorative sleep.
When billing for EMA or other appliances, it is important to know the correct billing protocols. Read this article by Dr. Ken Berley on Medicare guidelines for oral appliances for OSA.
Stay Relevant with Dental Sleep Practice
Join our email list for CE courses and webinars, articles and more..