Don't Make Your Patients Wait!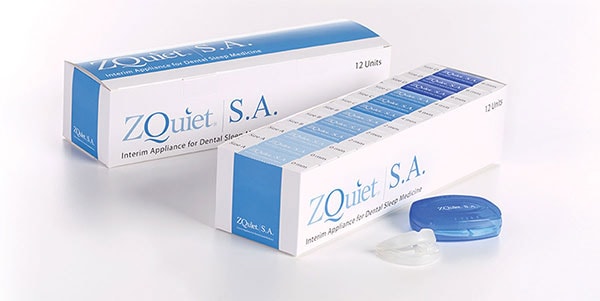 Your patient is sitting in the chair, ready to move forward with oral appliance therapy.  His bed partner is desperate for relief, and he fully understands that treating his apnea is critical to his health and his quality of life. Why spend weeks waiting for his custom appliance and delay beginning treatment that is necessary today?
Trina and I started ZQuiet because of our commitment to help people get better sleep and live healthier, happier lives.
Mayoor Patel, DDS, an Atlanta, GA dental sleep practitioner and educator, doesn't think your patient should wait. "Patients usually do not want to wait 3 to 4 weeks to get their custom device in order to begin treatment," said Patel. He uses the ZQuiet S.A., a new device specifically created to meet the needs of patients waiting for a custom device, allowing them to begin oral appliance therapy or maintain treatment while a device is repaired.
"As an educator of Dental Sleep Medicine, I explain to clinicians the importance and benefits of having a cost effective option that can be used in clinical situations as a temporary appliance or a trial device," noted Patel. "I have incorporated the ZQuiet S.A. for many different clinical situations and see great patient satisfaction as a result."
ZQuiet cofounder, Dan Webster, recounts, "The ZQuiet S.A. was developed as a product that fills an important treatment need. The new appliance offers immediate relief for patients and provides a continuum of uninterrupted patient care in the treatment protocol."
Brock Rondeau, DDS, DADSM of London, Ontario is pleased with the interim appliance option. "I particularly like to use the ZQuiet S.A. temporary appliance for OSA patients who have lost or damaged their oral appliance."
The ZQuiet S.A.'s open tray design requires no boiling, molding, forming, or impressions, requiring virtually no chair time which creates more efficiency in the practice to see more patients. The device retention is cleverly created by the resilient hinging which gently keeps it in contact with the dentition. "The beauty of the device's simplicity is that it doesn't replace or compete with a custom appliance so there is no risk of losing the sale of the custom appliance. Dentists appreciate the health value of using a temporary appliance to start immediate treatment or maintain interim treatment. Additionally the price point is so low, they don't even hesitate to fold the cost of the device into the treatment, providing a nice value add to the patient."

The ZQuiet SA is available in four protrusive sizes allowing the practitioner to provide temporary advancement at a clinically appropriate level. Each appliance is packaged individually with a storage case for easy dispensing to the patient.
Practitioners nationwide have embraced the new device, incorporating the temporary appliance in their treatment protocol. "I always doubted the need for a temporary appliance in my sleep practice, but after using the ZQuiet S.A. I am now a believer. Every patient with an appliance repair gets one, and my new cases benefit from immediate relief while their appliance is fabricated," says Brian Shuman, DMD of South Burlington, VT.
Webster, along with his wife Trina, founded Sleeping Well, parent company of the ZQuiet brand of snoring and OSA treatment solutions, after their struggle to treat his snoring. "We know first-hand how snoring disrupts families and impacts relationships," said Webster. The couple is passionate about providing education that can help consumers recognize the health dangers of OSA, and reaches millions of consumers through media campaigns offering treatment and support for anyone struggling with snoring and OSA. "Trina and I started ZQuiet because of our commitment to help people get better sleep and live healthier, happier lives. We see this same passion from the dental sleep practitioners we have met."
Dr. Rondeau agrees. "We have a responsibility to keep a patient's airway open while the new oral appliance is being made or repaired. Otherwise, in my opinion, we are practicing below the standard of care."
Stay Relevant with Dental Sleep Practice
Join our email list for CE courses and webinars, articles and more..