Don't Call It Early Orthodontics!
DSP Profiles Dr. Kevin Boyd and Dr. Janet Pannaralla

Craniofacial Mandibular Respiratory Morphology. Chances are, you've not seen those words together before. If you want to make a real difference in your community health, Drs. Boyd and Pannaralla think those words are maybe the most powerful phrase you can know. DSP had a chance to interview these inspiring professionals and here's their story:
Kevin Boyd grew up a son of a dentist when 'children's dentists' were rarely found.  Other kids wanted to be firemen, but Kevin set his sights not on just following his father into the profession, but helping children. Schooling included a master's degree in Human Nutrition, where he studied dental caries, then dental school and specialty training at the University of Iowa. This turned out to be fortuitous, because that program had an aggressive approach to 'interceptive orthodontics.' He learned to pay attention to jaw shapes and developing arches, but, like nearly every program, there was no airway focus back then. One of his professors, Dr. Samir Bishara, emphasized growth and development from an early age.
In practice in the early 1980's, Kevin was using his training to help kids get bigger arches for better smiles and easier orthodontic care – and began to notice parents were thanking him for other results. Widening the arch was being credited for better breathing, halting bruxing, even resolving enuresis! Who knew at that time that early therapy was having an airway effect?
Dr. Stephen Sheldon, DO, thought so – and recruited Kevin to see the kids from the sleep center he headed in Chicago. This started a close collaboration between medical and dental specialists that has resulted in research, a book chapter, and many children breathing better for life. They see children as young as 2 and track the effect of treatment as they grow.
The busy practice needed help so Dr. Janet Pannaralla, a general dentist, came aboard; after many hours of CE and years of clinical experience practicing child and airway health-focused general dentistry, she is as highly skilled in many important aspects of children's dentistry as any specialist. One of her many passions and skills is helping children with special needs – a segment of our population that is already vulnerable and sometimes overlooked. Many have an unrecognized airway problem – along with myofunctional issues and open mouth posture, structural compromises can provide serious challenges to 'regular' dental care and even more for airway! It's common to see wheelchairs in Kevin and Janet's office as they refuse to let such things get in the way of their commitment to helping all of their patients.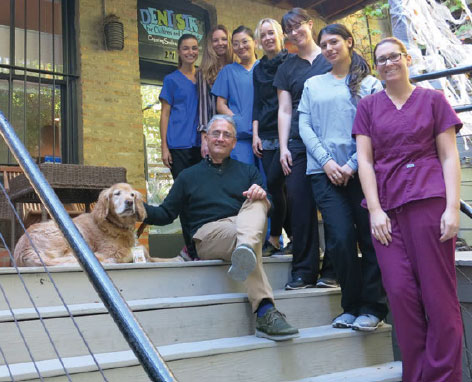 "Nathan", age 2 ½, was brought in by his mother, a dental hygienist, driving 4 hours each way because Nathan was going down the path of ADHD diagnosis, medications, behavioral labeling, and Mom would have none of that. A sleep test confirmed the symptoms she was seeing were from POSA – and they didn't go away after adenotonsillectomy. Next up? Orthodontic expansion – but she drove all that way to find dentists who understood Craniofacial Mandibular Respiratory Morphology – it's not about the shape of the jaw alone! It's the whole complex. Interceptive orthodontic therapy with an airway focus coincided with resolution of most of his pre-treatment symptoms, and Mom is happy to have a better sleeping, breathing…..and behaving Nathan now.
No one can talk with Kevin and Janet long without feeling their passion for Craniofacial Mandibular Respiratory Morphology – and it's not enough for them to impact only the kids in their practice area – even from 4 hours away. Good news for more children is they have plans to teach dentists from anywhere how to help kids like Nathan.


Sleep courses for dentists are easy to find – and it's fantastic that more and more of us are learning to screen for sleep breathing problems, get them diagnosed and treated, and look for more of the vast number of at-risk people in our community. But where to go for children's airway issues?


Kevin and Janet have been inspired by pioneers in this area such as Drs. William Hang, John Mew, Barry Raphael, Mark Cruz, Jeff Rouse, Marianna Evans and others, but they have bigger ideas. Every dentist who treats childrens' airways doesn't have to be an orthodontist – or a pediatric dentist. But there are anxiety-behavior management and treatment skills that need to be learned. Soon, in a city near you (because they are 'starting small' with about a dozen cities) you'll have expert classes to take in all aspects of Craniofacial Mandibular Respiratory Morphology.  General dentists and orthodontists can learn to augment their already existing clinical skills to include techniques that are aimed at helping children at younger ages than what might otherwise be common practice, to sleep, breathe…..and yes, maybe even behave, better; and pediatric dentists who are already highly trained and skilled in pediatric oral medicine might find new areas of service within their specialty. Dental team members are vital to every office service – the reason for the 'many cities' is to make it easier for teams to attend training together.
Look for these classes in 2017 – and, in the meantime, you can download Drs. Boyd and Sheldon's book chapter on growth of the airway at: http://www.kidstowndentist.com/wp-content/uploads/2015/11/Boyd-Sheldon-Sleep-2014.pdf.
Treating adult airway problems is challenging, rewarding and necessary. Treating children when you have a chance to allow them to grow without the compromise of a poor airway is life changing – for you, for the parents, and for our next generation.
Dr. Kevin Boyd and Dr. Janet Pannaralla can inspire every dentist to truly be part of the solution. Don't delay – your impact is needed.
Stay Relevant with Dental Sleep Practice
Join our email list for CE courses and webinars, articles and more..