A Conversation with Tony Robbins
MedMark CEO/Publisher Lisa Moler conducted an in-depth interview with best-selling author and life strategist Tony Robbins. The following are some excerpts to inspire our readers.
LM: We are honored to be able to sit down with you today. Congratulations on your film, Tony. Can you tell us about I Am Not Your Guru, the movie directed by Academy Award-nominated filmmaker Joe Berlinger about your Date with Destiny seminar?
TR: "Date With Destiny" is my favorite seminar, and I only do it once a year. I see 200,000 people a year in 15 countries, and I do this one program for 2,500 people for 6 days and nights — it's like total immersion. I just love it. The movie, available on Netflix, will be in 190 countries translated simultaneously. This is a true story about real people and real times creating huge transformations.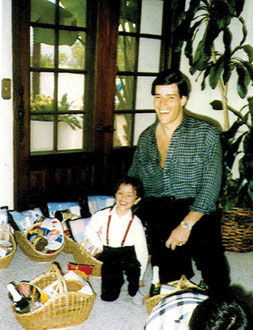 LM: As a philanthropist, you are doing amazing work, feeding millions and millions of people. Tell us about those efforts.
TR: We fed 100 million people last year alone just in the United States, and we're going to feed another 100 million this year with my partnership, Feeding America. And I've got a plan to feed a billion people over the next 9 years. I had no food when I was 11 years old for Thanksgiving; I started feeding two families initially at age 17; it just altered my life. I had so much joy to see that happen, to have my family be fed, when we had nothing. It changed my entire view of life, knowing that strangers really do care. And it affected the direction of my life, and I always promised myself I'd find a way to give back. Then I wrote Money: Master the Game, and I donated the $5-million advance. Then I got more inspired, and now I've got this system laid out to feed a billion. It's the thing I'm most excited about in my life right now.
LM: That is so touching. What would you say to our readers on how to be better business owners in this day and age?
TR: Professionals like dentists and doctors are some of the hardest working people, but they never really learn to run a business. They're artists; like I am at my core — meaning our art is helping people change their lives. Dentists have worked a lifetime to develop their skills, compassion, and their art. But then there's running the business, and they spend all this money going to school and becoming a great dentist, but no one teaches the business aspect. Most people in that position get stressed out and overwhelmed.
It changed my entire view of life, knowing that strangers really do care.

The chokehold on the growth of your business is your own psychology, your own fears, your own limits, your own "I have tried everything." We convince ourselves we've tried everything, and we haven't.
Innovation is the secret to really growing anything. You've got to innovate, and you got to market. And as a dentist, you've got to say, "I have a gift, and I have a talent, but my talent is going to die on my lips or die in my hands unless I can find a way to market that, to get people to want to do business with me." And what makes people do that today and more than anything else in relationship and referrals is innovation.
The first step is to decide that you're going to own the business, not just be the dentist. That you're going to take the time to put yourself in some environments where you learn the things you don't know so you can feel comfortable, so you can feel that you can make this thing happen, and there's no conflict between being a great healing professional and being a successful business person.
And as a dentist, you've got to say, "I have a gift, and I have a talent, but my talent is going to die on my lips or die in my hands unless I can find a way to market that, to get people to want to do business with me."
I knew a dentist who told his patients that he would give the best care and the most attention possible. But he required that patients realize that they need to reciprocate. He said he'd refer them out to if they were not comfortable. He required that if they canceled, they're would have to pay for the appointment anyway. He required they show up on time because of mutual respect. He also required that in the next 6 months, if he did the quality work promised, they would provide two referrals from two other quality potential patients. He said, "I'm going to spend more quality time with you, and I am asking for the referrals because I don't want to spend time marketing and selling. I want to spend time putting my attention to making your life better." He quadrupled his income and cut the time he spent doing dental work by more than 60%.
You need to find out more about your clients than anybody — more than they know about themselves. You need to understand what's going on in their lives, their goals, and make sure that everything in their psyche is taking care of them and helping them augment the way they look, the way they feel, their vitality, and the health of their system.
We've got to know who's making healthcare decisions. What do they want? What do they fear? What do they desire? And how do we meet those needs for them? We also need to align with what people spend money on. And most people don't go to the dentist until they have to. The profits are, as you well know, in elective dentistry. So we have to be aware of the innovations that can bring leverage so that the dentist has a reason for people to come see him or her instead of anyone else.
LM: How would you speak to the difficult task of staffing?
TR: It is not the person you hire, it's the person you fail to fire that messes you up. The person at the front desk, might be a really nice person, but if that person isn't connecting with people and doesn't have a natural effervescence, then the wrong person is in the wrong seat. This person might belong in another seat, but can't be the person up front connecting with people. You have to make those decisions quickly. The people interface is everything.

LM: What else can the dentist do to thrive in their practice?
TR: Start to take control of business. If the largest trend once again is 92% of people in this culture believe their smile is a very important element, then how do I reorient the practice to welcome those people, not just for maintenance and support, but what do you do to make somebody more attractive? You have to say, "I'm not going to tolerate the way I have run my business in the past. I'm better than this. I deserve more than this. My staff deserves more than this, and there is a way." Most people get to a place of learned helplessness and they will tell themselves, "I have tried everything." When we get fearful; when we've tried something, and we're not succeeding as fast as we want; when we are afraid of failing, we come up with a story about how it's not our fault, or how we're going to do in the future, because then we don't have to feel bad. But feeling bad makes us have to deal with it. Most people are overwhelmed.
What I've learned is it's really about making enough money that you don't  have to work again, and then you work harder, and you enjoy it more.
LM: You just have to do it, correct?
TR: When you change the story and come up with a new set of beliefs, you find yourself finding the strategy or using the strategies that work. You've got to be able to produce a different state of mind in your people. There has to be a compelling sense of mission. Patients need to know they are going to get the most beautiful smile as painlessly as possible, and you need to figure out how to be so compelling that people want to do business with you.


LM: Good point! Let's transition. In your book, Money: Master the Game, you talk about the 401(k) industry and the corruption involved. Please tell our readers some more.
TR: Close to 70 percent of Americans think that their 401(k) has no fees, or the company is paying for it, and it's not true. The reason they believe that is that the 401(k) industry is a multi-trillion-dollar industry that up until 2012 didn't have to tell you what they were charging you. Can you imagine taking people's money, taking whatever you want, and because it's so complex, people think they're being charged nothing? Some people think the charge is 1%. But there are up to 17 total fees, many of them hidden or opaque. The biggest providers layer on other charges in the fine print. To give people a perspective, the average mutual fund costs 3.12% (according to Forbes) when you add up the management fees and the laundry list of other costs that deduct from your returns.   That may not sound like much but it acts as the proverbial hole in your retirement boat. Most people are investing at some level they know that if I compound my money, if I keep reinvesting it, there's a point it starts to grow geometrically. Well, costs grow geometrically as well, and 1% of costs will cost you a decade of your income. So I've partnered with a company called America's Best 401(k), because I understood that fees matter, and I can pay the 1% in fees, or I can pay 3% in fees or I can pay less than 1% in fees, and the difference in compounding is mind boggling.
Warren Buffet taught me that in this day and age, people need to own index funds. These funds allow people to have the best companies available, like the S & P 500, but they pay the least amount of costs. Sounds brilliant, except when you get your 401(k), if the big company comes along that doesn't offer index funds to most dentists; they say you're too small; you can't do that, so we're going to give you all these expensive funds that underperform. That's like saying I can't give you this because I won't make enough money on you.
So we say funds matter, and we make available these index funds like Vanguard. To help people understand this concept, we created a site called showmethefees.com. You can go there or to AmericasBest401k.com/fee-checker-medmark/, and you can just put in simple information about your company, and it'll show you what you really pay, and what that means over decades because it's costing millions of dollars.
Also, protection matters. If you're a doctor and you have a 401(k) for your office, that gives the staff a tax deferral that allows them to grow. But as the business owner, you are known as the plan sponsor which means you have a fiduciary obligation to run the plan for the sole benefit of the employees. And for most, they have no idea what that entails and are busy being a dentist. One of the many legal obligations is that you periodically benchmark your plan and compare costs to other similar plans. 9 out of 10 that we talk to are unaware of this task and being out of compliance could be a serious fine. In fact, the Deparment of Labor, who hired an additional 1,000 auditors in 2015, reported that 70% of plans they reviewed were out of compliance and the average fine was $600,000. And to make matters worse, lots of employees are now suing the business owner for not keeping a close eye on their plan!
LM: Wow. That could easily put a small business under.
TR: It happens all the time. So our firm actually steps into your role as the fiduciary to the plan and handle the many legal tasks required. Show us your fees, put your information in, and then we run the report, and then you have that comparison. Then, you're protected. The 401(k) can be a fundamental wealth builder for you and your staff.
LM: What should dental professionals and business owners never give up on?
TR: What I've learned is it's really about making enough money that you don't ever have to work again, and then you work harder, and you enjoy it more. My heartfelt prayer is that from this little conversation, some people will look at this and say wow, the greatest gift in life is not what I achieve, but it's my ability to enjoy this life, and the only thing preventing me is a mind where I believe my own limiting thoughts. Don't focus on the ills in the world — every generation has had ills that can make it feel like it's the worst time to be alive. If you want to, you can find it's the best time to be alive and appreciate. When we turn expectation into appreciation our who life changes.
LM: Thank you, Tony. I recommend to our readers to check out "I'm Not Your Guru" on Netflix. Although you are not my guru, you're my hero.

Stay Relevant with Dental Sleep Practice
Join our email list for CE courses and webinars, articles and more..