Dr. Erin Elliott writes about technology and the dental sleep practice and the many tools that help her to successfully integrate sleep medicine into her everyday practice.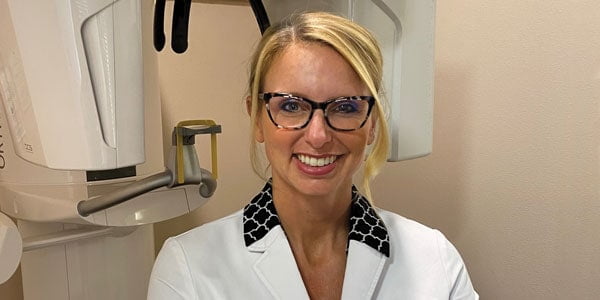 by Erin Elliott, DDS
Sleep medicine is one of the fastest growing areas of general dentistry. An increasing number of practices are now focusing on patients' overall health in addition to their dental health and hygiene. I love sleep. Whether it's dental sleep medicine (DSM) or actually catching some ZZZs, I cherish it. Anyone that follows my social media knows this because my husband, Tom often posts pictures of me dozing. I got involved in DSM in 2008 when I saw that there was a sleep physician speaking at our annual Idaho State Dental Association meeting. Once I discovered dentists could be part of a patient's journey to a better night's sleep and improved overall health, I was "all in."
One of the most common sleep disorders dentists treat is obstructive sleep apnea (OSA).1 OSA affects quality of life and may increase the risk of high blood pressure, heart disease, and diabetes if left untreated.2 It would be an exercise in futility to argue that any other type of comprehensive dental treatment is as important as treating OSA.
However, it isn't easy to incorporate sleep medicine into a general dental practice. Screening for potential airway issues, reimbursement, and uncertainty in predicting which patients will respond to oral appliances are very real challenges. Additionally, for many patients there is a striking disconnect between their lack of sleep and pressing health problems. They don't see the value of medical intervention for what they believe to be a minor nuisance – a slightly annoying snoring problem.
To successfully integrate sleep medicine with general dentistry, we must empower OSA patients in their own care. Instead of telling them what they need, we should involve them in the discovery of their condition and ways to treat it.
A Complete Solution for Evaluating OSA
As dental healthcare providers, we stare at patients' airways all day. Our clinical experience, coupled with our investment in the right diagnostic tools, puts us in prime position to identify undiagnosed OSA patients through screening. When evaluating a patient for potential sleep apnea, we utilize cone beam computed tomography (CBCT) to produce a high-quality 3D image of the patient's airway. Even if research hasn't shown a connection between the volume of an awake, upright airway and a sleeping, horizontal airway, our patients have a visual tool to help them understand why we care how they sleep. In addition, CBCT is a big time-saver compared to a full series of X-rays, with the benefit of a much lower dose of radiation exposure. That's a win-win.
We prefer the Orthophos SL Imaging system to provide better visualization of the airway, the entire jaw, the nasal cavity, and sinuses (my favorite). SICAT® Air software facilitates seamless image-sharing to assist in educating patients and setting a treatment roadmap.
Orthophos SL is part of the Simple Sleep Solution, a full-service offering of 3D imaging and digital dentistry workflow. Another key component of the Simple Sleep Solution is MATRx plus™, a device capable of performing both a standard home sleep apnea test and an oral appliance trial. It has a user-friendly, tablet-based interface with walkthrough instructions for patients to self-administer the test in their home.
MATRx plus provides real-time, cloud connectivity; sleep study results are sent directly to the dentist's office and reviewed with the patient. Furthermore, the device is equipped to identify a therapeutic protrusive position to determine the optimal placement settings for the appliance. Dentists, working collaboratively with the patient's primary care physician (PCP) and a sleep specialist as part of a multidisciplinary care team, interpret the study results to determine the presence and/or severity of OSA along with possible treatment options.
The Simple Sleep Solution is truly an end-to-end platform – it streamlines the patient workflow from airway analysis, to OSA diagnosis, all the way to ordering and delivery of the oral appliance at the optimal position. OPTISLEEP is the preferred appliance in our practice when we can utilize it. As a digitally fabricated device, it is stronger and slimmer than analog sleep appliances, making it more comfortable and longer-lasting for patients. With the OPTISLEEP appliance, we get strength without the bulk.
Patient Satisfaction in Practice
Rodney is a patient in our practice – and a close personal friend we treated for OSA. Rodney is in his 50s and is a healthy, former triathlete who's continued to live an active lifestyle. However, he had recently put on some weight, his sleep had worsened, and he woke up with a sore throat every morning. After suffering repeated nighttime panic attacks, he showed up at our office with his figurative "tail between his legs." We planted seeds with Rodney for years, and he finally conceded that it was time to have a sleep test.
This goes to show that you never know when your message to the community will connect with an individual patient. You can't predict when a patient will be willing to accept that it's time to take the first step in solving their problem. You won't win over every patient every time you bring up the issue of sleep. So be persistent, be consistent, stay motivated, and don't get discouraged. There are many Rodneys in every general dentistry practice.
When I saw Rodney, I brought up the possibility of prescribing CPAP after his initial diagnosis of severe OSA (AHI 47 with severe oxygen desaturation levels). However, he was vehemently opposed to CPAP. We agreed to try a home sleep test with MATRx plus to assess his candidacy for an oral appliance. To my surprise, the MATRx plus study results indicated that he could be successfully treated with an appliance.
Rodney had a great experience with MATRx plus. He was so well-rested that he wanted to keep the temporary oral appliance/titration trays from his sleep study. Just as important, Rodney and his PCP were confident that oral appliance therapy (OAT) was the right treatment for him. (Before most sleep apnea patients go through the process of getting an oral appliance and paying for it, they want to make sure it's going to work.) Rodney paid cash for two appliances (one as a backup) and feels rejuvenated. Now he's telling friends and family who have sleep problems to "get over themselves" and take care of their condition. He's become a vocal proponent for sleep, oral appliance therapy, and my practice. He'll tell anyone that will listen about his positive experience.
Empowering Patients and Building Trust
Assuming a patient is seen regularly (i.e. about twice a year), general dental practices are uniquely positioned to evaluate sleep disorders. With the Simple Sleep Solution, we have added new procedural options with 3D imaging to our repertoire. By adding images to our exams, we can help patients grasp the nature of their condition. Equipped with this information, both the patient and their healthcare providers are more likely to trust the treatment we prescribe and to believe it will make a significant difference in their lives.
Experientially, the more a patient is engaged, the more likely they are to understand and "own" their condition and be motivated to do something about it. They are more inclined to come back for additional services when needed, such as restorative dental work, and to refer their family and friends for comprehensive oral care consultation and treatment. Again, it's a true win-win.
Better Technology Yields Better Results
With dental practitioners playing a more prominent role along a patient's continuum of care, OSA treatment with oral appliances is an area of growing interest and opportunity. However, OAT is only being used in roughly 5-10% of the OSA population,3 despite data that shows that 50-60% of all sleep apnea patients may be appropriate oral appliance candidates.4
To deliver a better sleep medicine offering, it behooves practices to invest in next-generation 3D technology, such as a large field-of-view CBCT system like Orthophos SL-Ai. The Simple Sleep Solution provides a complete toolbox for practitioners, with a significant ROI and empowers us to:
Eliminate appliance failure
Improve compliance
Decrease time to treatment
Shorten office visits
Increase patient satisfaction through improved education and awareness
The bottom line is that our patients will thank us for providing a better therapeutic experience and for getting them the help they didn't know – or didn't want to admit – they needed. Now repeat after me, "WIN, WIN!"
American Dental Association. Oral Health Topics: Sleep Apnea (Obstructive). https://www.ada.org/en/member-center/oral-health-topics/sleep-apnea-obstructive. Accessed on September 17, 2020.
Surani SR. Diabetes, sleep apnea, obesity and cardiovascular disease: Why not address them together? World J Diabetes. 2014;5(3):381-384.
Charkhandeh S, Kuhns D, Kim S. A fully digital workflow and device manufacturing for mandibular repositioning devices for the treatment of obstructive sleep apnea: a feasibility study. J Dent Sleep Med. 2017;4(4):97-102.
Ramar K, Dort LC, Katz SG, et al. Clinical practice guideline for the treatment of obstructive sleep apnea and snoring with oral appliance therapy: an update for 2015. J Clin Sleep Med. 2015;11(7):773-827.
Stay Relevant with Dental Sleep Practice
Join our email list for CE courses and webinars, articles and more..