Aussie Dentist in OSA Breakthrough
O2Vent™ unique airway acts as second nose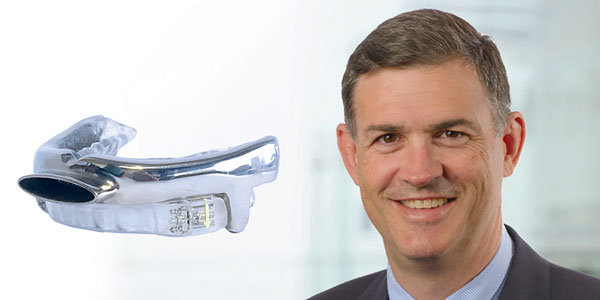 Australian dentist Dr. Chris Hart was a chronic sleep apneic with severe nasal congestion. In an act of desperation one sleepless night, he fashioned the prototype of what would become the O2Vent™ T. This "light bulb" moment led to developing a customized oral appliance with an internal airway to treat obstructive sleep apnea (OSA) and snoring – the first of its kind.
Like all oral appliances that bring the jaw forward, the O2Vent™ T stabilizes the jaw position and brings the tongue forward to reduce airway collapse. Additionally, the O2Vent™ T's unique built-in airway design allows for breathing through the device. This ultra-low resistance pathway enables additional flow in the presence of increased nasal resistance and a bypass in the event of a soft palate obstruction delivering unobstructed air flow below any nose and soft palate issues.
Using CAD software each device is created from 3D records of the patient's dentition and bite. Using 3D printing technology, a custom-made medical grade mouthguard is then fabricated from titanium and polymer.

How the Oventus Airway Technology works:
1. Air is drawn in the front of the appliance
2. Air passes through to the back of the appliance
3. The appliance advances the mandible, bringing the tongue forward and opening the airway"
Oventus received FDA clearance to market and sell the O2Vent™ T in April 2016 and the O2Vent™ W in July 2017. "The recent clinical data strongly supports O2Vent™ and its superior performance and clearly demonstrates its effectiveness in treating a range of sleep disorders. The study also showed similar compliance and response rates in those with and without nasal congestion, while also improving oxygen levels for patients," confirms Dr. Hart.
Current studies are looking at upper airway physiology, and the effect of Oventus' low resistance airway on pharyngeal collapsibility, and when used in combination therapy, not just the reduction in pressure requirements but also the ability to breathe physiologically while simultaneously applying CPAP. If the clinical data continues to support these early findings these two advances may represent a paradigm shift in the treatment of OSA.
Early data presented as an abstract at SLEEP 2017 in Boston showed that as a standalone oral appliance the O2Vent™ T reduced AHI by 78% from 37 to 8, normalized pressure swings in the oropharynx to the same level as optimized CPAP and as a CPAP interface reduced pressure requirements by 66% and negated the need for a mask.
As Oventus Airway Technology can be incorporated into virtually any oral appliance design this technology and data represents a significant addition to oral appliance therapy in the treatment of obstructive sleep apnea. To learn more, visit www.oventusmedical.com, e-mail info@oventusmedical.com or call 844-780-5957.
The O2Vent™ uses 3D titanium printing technology
Stay Relevant with Dental Sleep Practice
Join our email list for CE courses and webinars, articles and more..