Back in the Old Days … An Odyssey of Sleep Treatment

It is hard to believe, but some of us were working with sleep appliances in the early 80's! I was asked to teach a special "Orthodontic Topics" course to residents, and thought the creation of oral appliances for sleep disorders was a "cutting edge" topic. Some of the early sleep appliances were shown in the literature at that time with only anecdotal evidence of their efficacy.
My first position as faculty in a medical school with a dental residency program continued the interest in the appliances. Our medical school was just beginning to develop its sleep program, and the new director of this program asked me if I had any interest in providing sleep appliances to the program patients. After much research into the available appliances, I worked with Allesee Orthodontic Appliances with an initial design and began learning more about appliance positioning, fabrication, and adjustments. As I continued to work with the AOA lab, one of its laboratory supervisors also gained an interest in sleep appliances due to his personal diagnosis of mild obstructive apnea, so the Breathe Easy appliance was born.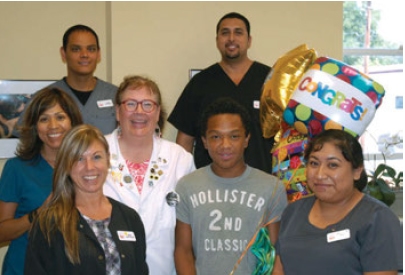 Since its inception, the one-piece appliance has undergone FDA certification. I find this appliance to be extraordinarily durable (lasting many patients 5+ years) and comfortable to wear due to a softer lining with a harder outer shell. Its only drawback is due to its one-piece nature, it is not adjustable, and must be remade if changes in jaw position are required. Over the years, I have "inherited" a number of adjustable, multiple-piece appliances as residents and patients moved in and out of the medical center, and found most of the multi-piece appliances tended to break within 6-18 months. As most insurance companies are hard-pressed to pay for one appliance, paying for a replacement appliance was even more difficult to effect. Therefore, I traded durability for adjustability.
The whole design and effort really came home when I myself was diagnosed with mild sleep apnea. As a proud wearer of an oral appliance, I came to appreciate good retention, durability, and an easy-to-clean appliance. I faithfully take lateral cephalograms on my patients with and without the appliance, and do feel the ones who receive the most benefit are those who achieve good protrusion and opening.
Appliances are not all "one hit wonders" and long-term follow-up of patients is crucial. A number of patients, including myself, eventually develop changes in occlusion due to long term wear of the appliance, as it is similar to an orthodontic functional appliance. My present endeavors are to work with AOA to develop a system to allow Invisalign treatment for orthodontic correction while an appliance is worn, to allow arch alignment as well as A-P alignment using elastics. I also have a number of patients who would like to align their teeth, but find they cannot survive without their oral sleep appliance, and therefore have to make a choice of alignment vs. sleep. With new developments of the Breathe Easy, I believe both can be achieved for the best overall treatment of a patient.
My biggest excitement over the years comes from the changing of technology and how that has modified how I make sleep appliances. Initially, alginate impressions were made, with a stack of 3 wax bites together to make the protrusive bite registration. The wax was unreliable at best, with changes just from placement to removal from the patient's mouth, not to mention having to ship it from my southern location during the hot months of the year. PVS bite registrations eliminated the wax problems, but still left alginate impressions and their relative inaccuracies. For the last 2 years, I've used an iTero scanner to scan my sleep appliance patients. This gives us greater accuracy, as well as "instant shipping" of the virtual models directly to AOA lab for 3-D printing. The iTero scanning software allows a direct connection with AOA lab. Patients love the scanner as they are no longer held hostage by gaggy PVS material that seems to take forever to solidify. The patients also love that any remakes only require a quick bite registration, as the "models" are digitally stored. I also note the appliances made from the scans fit better and need fewer adjustments at the initial appointment, which saves both the patients and my staff additional time.
This has been a wonderful 25 year journey of sleep patient treatment. My collaborations with sleep medicine colleagues, changes with insurance policies for payment, scanning technology, and alternative designs have all made the construction of an oral sleep appliance more enjoyable and more accurate for the patients. I look forward to another 25 years of sleep medicine and its help to all needy patients.
Stay Relevant with Dental Sleep Practice
Join our email list for CE courses and webinars, articles and more..