Ez Sleep & Apnea Guard – A Game Changer for Dental Sleep Medicine
Ez Sleep is dominating the home sleep testing industry – that is why the pairing of Apnea Guard with Ez Sleep's baseline and efficacy home sleep testing offering is the perfect marriage to test and treat OSA patients. Dentists will now be able to deliver immediate trial therapy with AG in the very same appointment as discussing a patient's baseline HST results.

The Dental Sleep Medicine industry has changed drastically in the past 5 years, and Ez Sleep is leading the industry with its continued forward thinking, cutting-edge disruptive technologies, and products provided through an ever expanding multidisciplinary network of experts in both the Sleep Medicine and Dental Sleep Medicine industries.
Ez Sleep's network of highly impressive and experienced strategic partners currently includes Invisalign, i-CAT, Henry Schein, DS3 Software, Nierman Billing and SML Laboratories. Ez Sleep adds yet another powerful piece to the dental sleep medicine puzzle with Advanced Brain Monitoring (ABM), Carlsbad, CA.
Why is the Apnea Guard a game changer?
The AG is an immediate 30-Day trial oral appliance that provides outcomes equivalent to a custom OA for OSA treatment.1 A trained healthcare staff member can fit the device in less than 15 minutes. It allows easy determination of an efficacious jaw position which can be prescribed and transferred to the custom appliance. It is an inexpensive and simple method to determine who will respond to oral appliance therapy and way to save chair time. To test these claims, the AG was trialed in 2006.
The Science Behind the Apnea Guard®
Obstructive sleep apnea (OSA) research was initiated in 2006 with a $1.05M grant, funded by the National Institute of Dental and Craniofacial Research, to investigate how to improve oral appliance therapy outcomes with Dan Levendowski serving as the Principal Investigator, Todd Morgan the sub-investigator, and Victoria Melzer the site administrator for the novice dental office.
The primary conclusion from their research was too much 'trial and error' was involved in the determination of a jaw-forward position that optimizes oral appliance outcomes for the treatment of OSA. Their finding resulted in five manuscripts and ten conference proceedings and led to the development and validation of the Apnea Guard®. A summary of their research findings are presented below:
Can a novice dental sleep medicine dentist achieve treatment outcomes equivalent to an expert dentist?

There were no differences in outcomes between the novice and expert dentist based on OSA severity.
More consistent follow-up and coaching by the novice practice achieved better outcomes after one-month as compared to the expert.
The vast majority of patients do not advance their custom appliance as instructed upon delivery without telephone follow-up.
The novice managed all complications without assistance using the expert's protocol.
Conclusion:
The faster a patient advances to 70% protrusion, the sooner they will be optimally treated.
A novice can achieve results similar to an expert dentist so long as they follow proven protocols.
Should oral appliance therapy be limited to only patients with mild- to-moderate OSA severity?

With proper titration, 96% of these with severe OSA and 83% of those with moderate OSA achieved >50% reduction in OSA severity.
In addition to achieving a >50% reduction in OSA severity, 54% with severe OSA and 80% of those with moderate OSA also achieved a post-treatment severity <10 events/hr.
Significant improvement in sleep-disordered-breathing, hypoxemia, snoring, daytime somnolence and depression were achieved with oral appliance therapy.
Conclusion:
The vast majority of patients respond to oral appliance therapy. A trial appliance should be offered to identify those who respond to oral appliance therapy.
How similar are the outcomes of a trial appliance using a predicted setting vs. a custom appliance titrated with multiple home sleep tests to achieve optimal outcomes?

The custom appliance provided slightly better outcomes in the supine and slightly worse outcomes in the non-supine position vs. the custom appliance.
Over 80% of the patients were titrated to 70% protrusion in order to achieve optimal custom appliance outcomes.
Conclusion:
A trial appliance can be used to predict treatment response and predict the protrusion setting that achieves optimal outcomes.
If the optimal jaw-forward position for a custom appliance can be optimally predicted with a trial appliance, what impact does it have on patient care and outcomes?
The time to reach optimal custom appliance titration was reduced from an average of 136 to 34 days and the number of office visits was reduced by an average 2.2 visits.
Use of the trial appliance while waiting for the custom appliance to be fabricated decreased time to treatment from an average of 33 days to 0.
The "trial appliance technique" improved outcomes as compared to the "George Gauge technique" by 24%, with optimal outcomes increased by 14% and non-responder outcomes reduced by 10%.
Conclusions:
The "trial appliance technique" is superior to the "George Gauge technique" in determining the optimal jaw-forward position.
Treatment outcomes and patient care can be improved, and practice profitability can be increased with the use of a trial appliance.
---
Meet the Inventors of the Apnea Guard

Dan Levendowski – Co-Founder of Advanced Brain Monitoring and Co-Inventor of the ARES HST sleep device. Among the achievements of ABM: Their medical devices have been used on over 300,000 patients worldwide. Their innovations have resulted in 20 patents and 12 patents-pending. They have been awarded over 40 research grants totaling over $32 million dollars. Their clinical studies have resulted in over 100 scientific publications.
Dr. Todd Morgan – has been recognized as an expert in the field of Dental Sleep Medicine. He has been in practice for over 25 years in California. His team has collaborated on several NIH funded clinical trials and authored many peer-reviewed articles and books on the treatment of OSA with OAT. Dr. Morgan has served twice on the AADSM Board of Directors. He is the current Vice Chair for the 2014 and 2015 AADSM Advanced Dental Sleep Medicine Courses, and is the architect of the new Board Examination Review that was launched in 2013. He is an invited speaker around the world. Dr. Morgan believes that patient care should revolve around information, a comfortable environment, and providing treatment that works!
Victoria Melzer, RDH, BS – working in practice for over 30 years, Co-investigator on several sleep-focused studies, has co-authored eight publications and is a co-inventor of the Apnea Guard.
Victoria shares her story
It is exhilarating as a hygienist to be able to fabricate an Apnea Guard – a simple putty filled tray – and to watch the AHI, RDI and desaturations plummet in an interpreted Type III HST. As a co-inventor of the Apnea Guard device, I have been able to treat medically-referred OSA patients. I have personally witnessed the transformation of these sleep-deprived individuals. It is incumbent on us as hygienists to 'save lives' as we educate our patients towards better periodontal and dental health. Treating OSA saves lives too, and it is right in front of us every day. In an average dental office, a significant number of patient's present with OSA.2 Hygienists can recognize and document the obvious oral manifestations of this disorder in our routine cleanings and bring these patients to our doctor's attention so the Apnea Guard may be employed.
The beauty of the Apnea Guard is that it is a temporary, FDA-approved, titratable device that most medical health care professionals can quickly fabricate to help save lives. Hygienists have many things in their tool box to aid in the care of our dental patients; we even have tools for our patients to use at home. Now we have another tool, the Apnea Guard.
One of my favorite patients said to me: "I am sure you saved my life, or at least extended it."
How does the 'Love at First Bite' program work? Let's ask Ez Sleep CEO Keith Woods
"We are
really excited about the launch of the AG. As an innovator in the sleep medicine industry, I see the future of DSM going down the path of required patient-proven responses to trial appliance therapy prior to custom appliance fabrication. A model of outcome-based medicine for dentists to continue to receive custom OAT reimbursement is in our future. We support this approach and model as we believe this will be the best way to unite both the medical and dental communities together.
In the last 7 years, I worked with many physicians and dentists in both our Sleep Centers and with Ez Sleep nationally. I kept hearing the same two concerns and questions being asked by physicians to dentists when being approached to collaborate and receive medical patient referrals:
"How do I know if Oral Appliance Therapy is actually going to work for my patient?"
"How much is it going to cost my patient 'out-of-pocket' to try Oral Appliance Therapy?"
Until now, the answers to these questions often remained a big m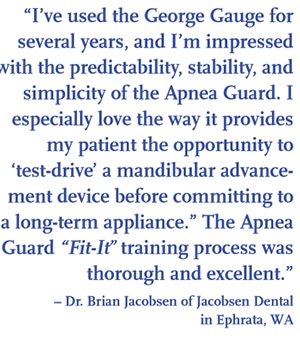 ystery to both disciplines and this lack of a guaranteed successful outcome has always been the key reason for physicians to be hesitant when referring their OSA patients to dentists for treatment management by use of OAT.
The "Love at first bite" outreach program is now helping physicians, dentists and patients all across the country be given a risk-free option to recommend, provide or receive Apnea Guard. Once a 30-day trial of Oral Appliance Therapy is recommended by a physician, Apnea Guard is then delivered by any dentist who has been previously trained on how to "Fit-It".
Yes, you heard correct, in-conjunction with an Apnea Guard prescription and a home sleep test, Ez Sleep now provides a "no-cost" trial oral appliance to its patients via its network of dentists trained on how to "Fit-It"!
Ez Sleep's patient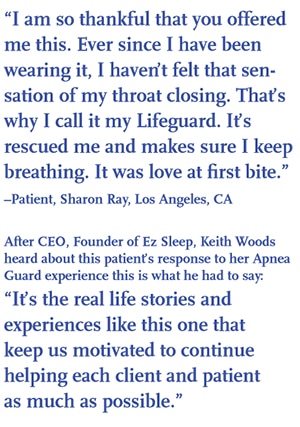 outreach with Apnea Guard program aims to bridge the gap between both the medical and dental fields, it plans to revolutionize and shape the way both Sleep Medicine and the Dental Sleep Medicine industries can now "Fit-It," and work together to Screen, Test and Treat those suffering from Obstructive Sleep Apnea.
As the dental industry's leading in-home sleep testing service, Ez Sleep already provides the most simple and effective, yet comprehensive screening and testing network for dental and medical practices all over the country; assisting doctors and their staff in navigating through the dental sleep medicine process with ease.
As the "Exclusive Distributor" of the Apnea Guard, we invite you to join your many colleagues that are already benefiting from our "Love at First Bite" patient outreach program.
Our simple approach to Screen, Test and Treat with Apnea Guard empowers affordable treatment options and patient-informed choice. You get results, with increased revenue, while focusing on the most important aspect of the puzzle – patient care.
The Team Behind the Operations and Training of the Ez Sleep Academy
Justin Fu, MD, MBA, FAASM is Ez Sleep's Chief Medical Officer. Dr. Fu is double board certified in Sleep Medicine and Internal Medicine by the American Board of Internal Medicine and a Fellow of the American Academy of Sleep Medicine.
Victoria Melzer, a co-inventor of the Apnea Guard teams up with April in the "hands on" tele-training of the Apnea Guard across the country to ensure the most effective, precise and personalized training.
April Sallie, PSS, is a key leader responsible for the creation of the Ez Sleep screening training process and program. She has been with Ez Sleep since it was founded. April has worked with patients one on one screening in numerous medical and dental offices over the last 9 years learning and developing the most effective, patient-friendly screening process.
Autumn Bodily, Lead Educator and developer of the Ez Sleep Academy, joins them to make up "The Dream Team" of DSM practice staff training.
Company Contact
For more information on Apnea Guard or Ez Sleep In-home Testing, please contact Ez Sleep at 888-240-7735 or Inquiries@EzSleepTest.com, or visit the websites www.EzSleepTest.com or www.LoveatFirstBite.Buzz.
This information was provided by Ez Sleep.
---
DSP had the opportunity to spend a few minutes with Elizabeth Tietjen, Chief Innovation Officer/COO of Ez Sleep
DSP: What was it about Ez Sleep that gave you the desire to join their team?
ET: "I was very impressed with the company's commitment to building a dedicated team. They are mission driven trailblazers… accelerating access to screening, testing, and treating of OSA; and they wear groovy socks! The opportunity to help scale this business to widely increase access to care for one of the most under-diagnosed disorders, Obstructive Sleep Apnea (and SDB) is a huge challenge – and we are hoping to put a dent in the OSA universe."
DSP: Can you share some plans on how Ez Sleep plans to do this?
ET: "Sure. With our current launch of Apnea Guard, dentists are able to provide immediate therapy, decreased cost, increased compliance with fewer appointments, etc. Oral Appliance Therapy is a great option for travel and those who cannot tolerate CPAP. Apnea Guard can help with this transition. A follow up Home Sleep Test by Ez Sleep provides efficacy and improvement metrics at designated intervals. It will be a game changer in access to care alone. We've only had it in the field a few months and we're already seeing impact on quality of life.
DSP: That's exciting. Anything else you can share?
ET: I am excited by the digital revolution in healthcare and IoT (Internet of Things). Ez Sleep is embracing this via data driven product offerings…we recently launched Night Shift, for Positional Sleep Therapy, (supine) – it pings the user when sleeping in Supine to trigger them to "shift" to their side, without waking them up. This helps with snoring and comorbidities like hypertension and weight loss. A portal stores the metrics of their sleep in supine, etc. Real time, actionable data allows patients to actively participate in their own health and drives collaboration with their provider.
DSP: Any closing thoughts?
ET: We are setting the pace of the industry through our collaborations with manufacturers, our partners such as Advanced Brain Monitoring, i-CAT, Invisalign, and our network of medical doctors and dentists countrywide. By training on effective screening, providing efficient testing and the options for treatment of OSA we significantly improve lives…left untreated, Sleep Ap-nea leads to diabetes, hypertension, cardiac issues, risk of stroke and even death. We are moving the science of dental sleep medicine forward. Ez Sleep is rapidly expanding – our awesome team of super-heroes is disrupting the status quo with our innovative products and crushing it with mind blowing service.
---
A New Business Model for DSM Using the Apnea Guard Trial Appliance
by Dr. Todd Morgan
I've been practicing Dental Sleep Medicine for many years now and I have become quite good at spotting likely responders to Oral Appliance Therapy. But I still get fooled. One of the realities we face in our field is one that is quite contrary to our training in dental school, and that is that failure is acceptable. Those that choose to begin treating patients with SA will find tremendous rewards and receive tremendous thanks from our patients. I like to say to my students that "It's better than doing six veneers." But it is also hard to accept defeat when our efforts fail. After 25 years it is still as hard for me to admit that my best effort has failed, but nowadays that is not happening anymore with the Apnea Guard trial appliance and a new model for success in DSM.
Just recently I began to explore working in tandem with a local DME company with the common goal of leaving no patients behind. DME companies who deliver Positive Airway Pressure therapy know the stark reality: many patients will fail despite their best efforts to provide good care. Where do these patients go who abandon PAP? The answer, unfortunately, is often they are left behind and fall away unless they have the courage to re-engage their sleep or family physician and ask for other options. Many do, but many more than that are left untreated. We set out to change that.
Our unique manage care model identifies non-adherent CPAP patients at 45-60 days using data from modem-transmitted PAP usage download data, and then generates a protocol for moving those patients into an oral appliance treatment arm of therapy. In order to identify OAT responders another protocol is then deployed using the Apnea Guard trial device and HST. Since the Apnea Guard device is proven to be equivalent to custom device therapy we can now reliably identify candidates and proceed further with custom appliance therapy. Sure, a few managed health care systems have used a similar approach using "boil and bite" trial devices. But, of course, there is no evidence to support this when the jaw position is not accurately determined.
We have been quite well received by Insurance Payers in our area who are delighted to pay for trial therapy with the Apnea Guard plus HST in order to avoid paying for the failures that they see using expensive custom devices on everyone out of the gate. In our setting we are contracting with local systems that are managing a limited number of health care lives. Our system uses the existing medical code E0485 for billing a trial appliance, and the standard coding for the HST to show efficacy.
I love the fact that we are potentially saving many more lives by identifying PAP failures early on, and that we are not wasting our patients' time or money by identifying them immediately for OAT. This model will improve our image as DSM practitioners among payers and physicians, who have asked me for more years than I like to think about, for a way to pre-identify OAT candidates. I am finding it much easier these days to confidently recommend OAT while watching my case acceptance and success rate soar.
Treatment Outcomes of Mandibular Advancement Devices in Positional and Non-Positional Patients. Chung JW, Enciso R, Levendowski DJ et al. Surg Oral med Oral Pathol Oral Radiol Endod, 2010; 109(5),724-731. Voted by Editorial Board for H. Dean Millard Best Paper Award for 2010.
In-Home Evaluation of Efficacy and Titration of a Mandibular Advancement Device for Obstructive Sleep Apnea; Levendowski D, Morgan T, Patrickus J, et al. Sleep Breath 2007 11(3):139-147.
Initial Evaluation of a Titration Appliance for Temporary Treatment of Obstructive Sleep Apnea. Levendowski D, Morgan T, Westbrook P. J Sleep Disord Ther, 2011; 1:1.
Benefit of Mandibular Repositioning Device (MRD) Therapy in Patients with Moderate and Severe OSA. Levendowski D, Morgan T, Melzer V et al. Sleep 2009 32:203.
Predicting Changes in AHI Resulting from Mandibular Repositioning Device Therapy. Levendowski D, Morgan T, Patrikus J et al. Sleep Breath 2009;13:308.
Comparison of Mandibular Repositioning Device Outcomes for the Treatment of Obstructive Sleep Apnea Using Alternative Approaches for Determining the Optimal Jaw-Forward Position. Morgan T, Myers, A, Melzer V. Conference preceding of American Academy of Dental Sleep Medicine, 2014; Minneapolis, MN
Treatment Efficacy Using a Trial Oral Appliance to Determine the Optimal Jaw Forward Position for a Custom Appliance. Morgan T, Meyers A, Melzer V, Levendowski D. Sleep 2014; 37:A361.
Stay Relevant with Dental Sleep Practice
Join our email list for CE courses and webinars, articles and more..