Editor's intro: Precision engineered and manufactured solutions can help more dentists treat more patients with better outcomes.
by Mark T. Murphy, DDS, FAGD, and Edward T. Sall, MD, DDS, MBA

A recent survey of board certified sleep physicians shed some light on 'WHY' physicians are concerned with Oral Appliance Therapy. Although they are concerned with comfort/compliance, insurance coverage and side effects, it is efficacy that took center stage. While turning a blind eye to their own comfort/compliance issues and side effects is not productive, standing tall on efficacy can seem strange considering CPAP's record. At ProSomnus, precision engineered and manufacturing solutions are helping pave the road to a better understanding and acceptance of OAT from physicians and recent studies. Cistulli1 noted that health outcomes were similar after one month of OAT and CPAP treatment in patients with even moderate to severe OSA. The conclusion was that efficacy, although near 100% for CPAP, was tempered by compliance and vice versa with regards to OAT. Effectiveness and Mean Disease Alleviation are the true goal.
Addressing Concerns: Efficacy and Compliance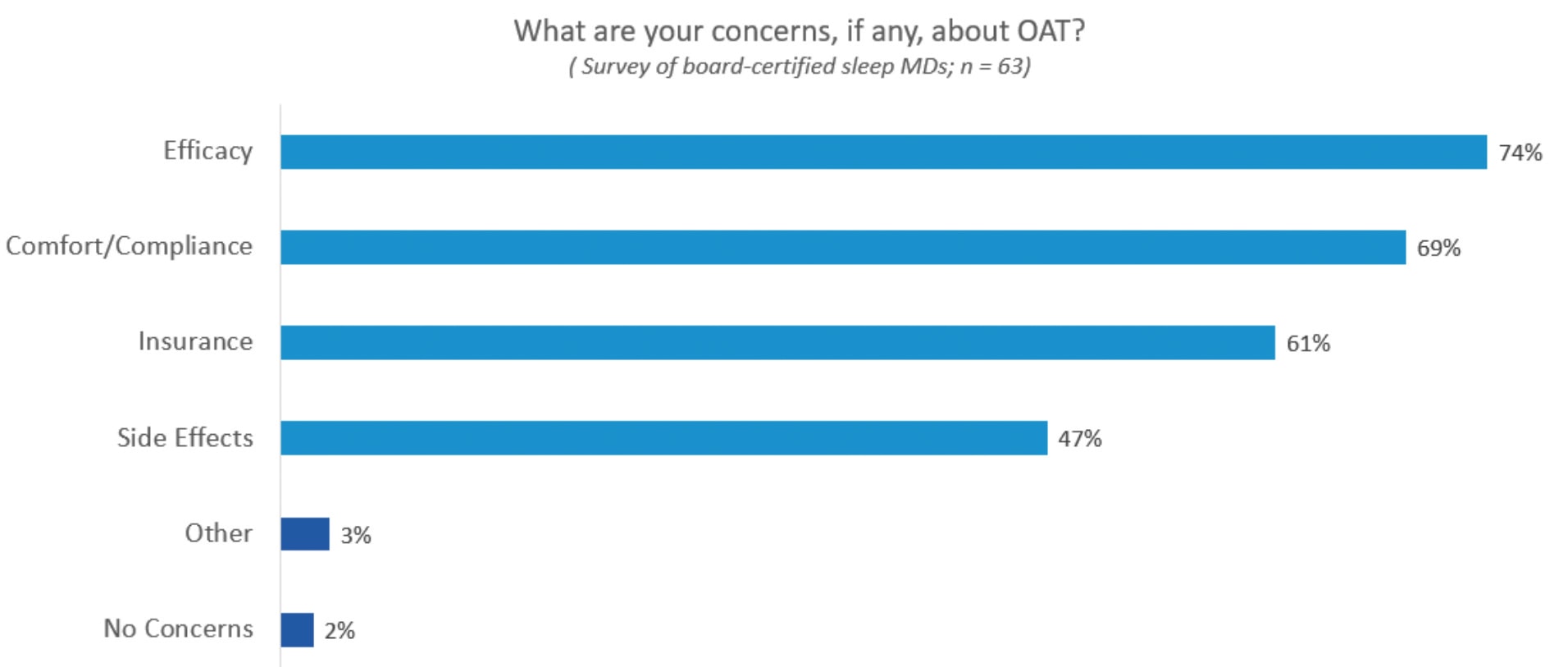 Efficacy alone without compliance might feel like an unfair criticism, but the graph below shows how much it has improved over the last 20 years. From less than 50% to almost 70% combined with what we know and observe in terms of adherence/compliance should serve to soften the hesitancy of sleep physicians to prescribe OAT. 40% CPAP Compliance reports are common and 4 hours per night for 70% of the nights has been used as the definition for some time. Recent studies in OAT show nearly 90% compliance 7 hours per night, 7 nights per week. The EFFECTS study2 demonstrated a higher Mean Disease Alleviation for OAT at 56% than that of 50% noted in literature values for CPAP.3
Moreover, the 2015 joint AASM and AADSM guidelines4 state, "Meta-analyses performed using the limited available evidence indicates that OA's can significantly reduce the apnea hypopnea index/respiratory disturbance index/respiratory event index (AHI/RDI/REI) across all levels of OSA severity in adult patients. There was no statistically significant difference in the mean reduction in AHI before and after treatment using OA's versus CPAP across all levels of OSA severity." Meanwhile, during the last 20 years, CPAP performance has not improved.5
Addressing Concerns: Insurance and Side Effects
All major medical insurance carriers have accepted E0486 and cover it for mild and moderate OSA and many extend coverage to severe cases when CPAP has failed or been refused. Side effects, historically common, are much less frequent as designs and protocol mitigate their experience and frequency.
Morning Occlusal Guides Designed to Reduce the Chance of Posterior Open Bite.
Precision Fitted OA's do not allow for the tooth movement seen in more flexible materials.
Design Engineered Bilateral Symmetry and Smaller devices help mitigate jaw pain.
Denser Milled Materials reduce bio-burden and hygiene issues.
Check out this article in Dental Sleep Practice to learn about how to avoid key oral appliance side effects through ProSomnus' precision engineered and manufactured solutions.
Cistulli, Peter A., AJRCCM, Vol. 187, No. 8 | Apr 15, 2013. Health Outcomes of Continuous Positive Airway Pressure versus Oral Appliance Treatment for Obstructive Sleep Apnea; A Randomized Controlled Trial.
Stern, J.; Lee, K.; Kuhns, D. Efficacy and Effectiveness of the ProSomnus® [IA] Sleep Device For the treatment of Obstructive Sleep Apnea – The EFFECTS Study Poster session 2018 AADSM Baltimore.
Sutherland K.; Phillips CL; Cistulli, P. A. Efficacy versus effectiveness in the treatment of obstructive sleep apnea; CPAP and oral appliances. Journal of Dental Sleep Medicine 2015; 2(4):175-181.
Ramar, K; Dort, LC; Katz, SG; Lettieri, CJ; Harrod, CG; Thomas, SM; Chervin, RD. Clinical practice guideline for the treatment of obstructive sleep apnea and snoring with oral appliance therapy: an update for 2015. J Clin Sleep Med 2015;11(7):773–827.
Rotenberg et al. Journal of Otolaryngology-Head and Neck Surgery (2016) 45:43 Trends in CPAP adherence over twenty years of data collection: a flattened curve.